On April 21, Minister of Finance Vuong Dinh Hue met and discussed with leaders of Ho Chi Minh City ways to resolve a number of issues aimed at clearing economic barriers in Vietnam's biggest economic hub.

Leaders from the Ministry of Finance and HCMC focused on issues of reducing financial deficit in the City's budget. They also discussed how HCMC could keep a reasonable percentage of tax for its capital, to reinvest in infrastructure and social welfare schemes.
The Minister of Finance agreed that some statistics indicate a reduction in production, and the slow growth of CPI showed a decrease in total demand that has negatively affected the economy.
The leaders also agreed that the economy could suffer from higher pressure after increase in prices, starting in the second quarter this year.
They also discussed ways to create a mechanism to mobilise capital from various sources and under different modes to support small and medium enterprises.
There was also agreement that although the Government created more chances for enterprises to access capital resources, it is necessary to prevent the increase of bad debts.
They agreed that enterprises need to solicit the Government's assistance in developing their markets and introduce their products to regional and international markets, as well as raise their management ability and competitiveness.
Minister Hue said tax policies should be adjusted to suit the current situation and certain fees should be carefully considered to avoid raising production expenses of enterprises.
It would also be necessary to boost effective tools to manage and monitor the usage of the State budget and public assets, he said.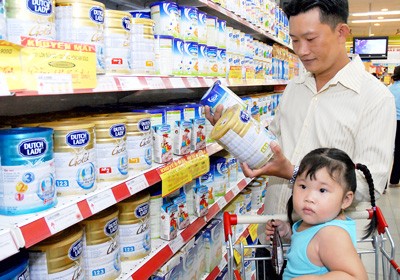 People worried about the prices of some essential commodities such as milk, drugs still increasing. (Photo: SGGP)
Hue suggested that the relevant agencies strictly manage tax collection and tax loans as well as implement price adjustment based on the market to avoid a "shock" in the economy.
The leaders of Ministry of Finance and HCMC agreed that red tape still remains, a contingent of cadre still avoid responsibilities, especially in the field of construction, real estate, issuing of permits, etc. Adjustments of regulations to warm up the real-estate market should also be made to improve the situation.
Le Hoang Quan, chairman of the HCMC People's Committee recommended the central organs launch a package assistance programme to help businesses find markets for their products, and care for workers and timely adjust the tax criteria.

He promised that the HCMC People's committee would study, assess, and draw up a master plan for the restructuring of the city's economy and focus on the development of the zones and major sectors and products.
The city leadership recommended to the Government to grant more authority to HCMC in areas of administration, finance, land management, and human-resource development.
According to Deputy Minister of Finance Hoang Anh Tuan, the Government plans to continue lowering interest rates and boosting consumption to reduce enterprise inventory.
He said it would be necessary to manage the loans of the Government and public and to maintain supportive financial policies for small and medium-sized enterprises to help them weather the difficult period, especially those in the processing and export production industries.
In the meeting, leaders of the Ministry of Finance and HCMC pointed out that despite the programme to stabilise the domestic market, the prices of some essential commodities such as milk, drugs are still increasing.
Nguyen Thi Hong, deputy chairwoman of the HCMC committee, said the Government needed to observe markets at home and abroad in order to apply proper supply and demand control methods and stabilise the domestic market, especially the price of goods necessary for production and daily life.
Minister of Finance Vuong Dinh Hue, sharing the same view as Ms Hong, proposed three main solutions to ensure the success of this year's socio-economic development plan: to control inflation and stabilise the economy; to boost production and trading activities; and to improve the quality of human resources.
He said effective solutions should be implemented soon to hold inflation this year at 9 per cent and economic growth at 6-6.5 per cent to ensure the success of other goals related to social security, hunger eradication and poverty reduction, health, culture and traffic safety.
Minister Hue said incomes for the State Budget in the first quarter reached nearly VND173 trillion (US$8.2 billion), equivalent with 23.3 per cent of the budget estimates that predicted the incomes from export-import activities would remain very low.
The Ministry of Finance is studying amendments to the Law of State Budget and will submit it to the National Assembly soon, he added.