Gasoline prices will not rise again, two senior government officials have assured.
Speaking at the government's annual meeting in Ha Noi Tuesday, Deputy Minister of Finance Tran Xuan Ha and Deputy Minister of Trade and Industry Nguyen Thanh Bien said the hike in price from VND14,500 a liter to VND19,000 on July 21 would be the last for the time being.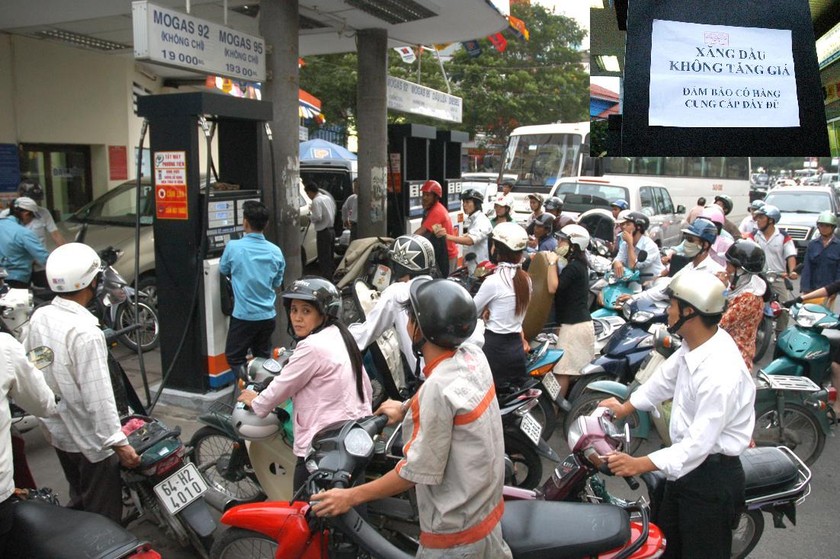 So many city residents rushed to filling stations after rumours the gasoline price has surged again
Following rumors of a fresh hike to VND24,000, people in Ho Chi Minh City, Da Nang and several provinces scrambled earlier this week to buy gas and stock up.
 
Mr. Ha also warned that his ministry would conduct inspections to find out if gas stations are violating rules.
Gas stations refusing to sell oil or closing down without valid reasons stand to lose their license, he warned.
Mr. Nguyen Cam Tu, another deputy trade and industry minister, urged people not to lend credence to rumors and allow rumor-monger to profit.
In an emergency dispatch yesterday, Mr. Tu instructed concerned agencies to slap harsh penalties on people spreading rumors and causing economic unrest.
Ms. Nguyen Thi Hong, vice chairwoman of the HCMC People's Committee, said district leaders have been asked to monitor gas prices. They would be held accountable if gas stations in their jurisdiction are found violating regulations, she added.
Following yesterday's mad rush to buy gas, market monitoring teams in HCMC acted quickly. They told owners of gas stations to be present and explain to the public there would be no price hike.
Mr. Le Xuan Dai, deputy head of the city's Market Management Department, said no gas station was found selling above the regulated retail price.
If any of them are found gouging or shut down, consumers can call city hotlines at 08-9325251 or 08-9322491.
Petroleum distributors said there are no grounds to increase prices since global prices have declined.