Nearly 1,000 key officials of Ho Chi Minh City participated in a crucial meeting, presided over by city Party chief Le Thanh Hai, on strengthening the Party's leadership in the fight against corruption and wastefulness.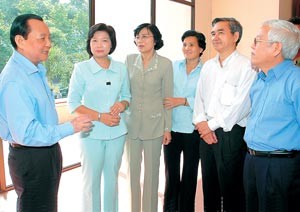 Mr. Le Thanh Hai (L) discusses with delegates (Photo: SGGP)
An action plan delivered by representatives of the Ho Chi Minh City People's Committee said inspections would be conducted in land management, construction projects, public funds management, and State-owned property management.
Government inspectors will focus on corruption-prone areas like home and school construction, people's relocation, home and land ownership certificates, construction licensing, automotive purchases, and declared expenses for receptions.
The inspectors will also check the allocation of State-owned houses for officials to ensure that they are still State property.
City Party chief Le Thanh Hai highlighted the five key tasks in fighting corruption and wastefulness. He urged districts and units to work out their own action plans and carry them out accordingly. In charge of the fight against corruption and wastefulness, he appointed Party executives and the heads of districts and units.
One of his specific orders is to replace officials not fulfilling their tasks, or associated with corruption cases.
The People's Committee is required to instruct and promote districts and agencies in their thriftiness. The first stage will be carried out by March 2007 and is to be concluded with a review of the results and new found lessons for the following stages.  
Mr. Hai ordered the law protecting agencies to bring to justice all corruption scandals under the city's authority during the remainder of the year.