Ho Chi Minh City 's consumer price index (CPI) in March rose 1.92 percent over February and 19.82 percent from the same month last year, said the city's Statistics Office.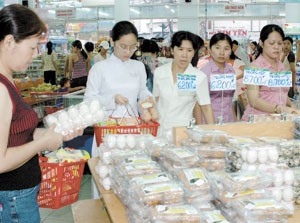 HCMCity' CPI rose 19.82% from the previous March
In Viet Nam , consumer prices usually increase sharply during the traditional New Year Festival (Tet) and reduce in the following month. However, this year, consumer prices continued increasing after Tet.
A number of commodity groups experienced unusual price rise which are higher than average, including rice (24.37 percent), fresh poultry meat (59.11 percent), fresh seafood (24.13 percent), butter and milk (22.77 percent), water supply service (41.15 percent), gas (33.2 percent), and oil and petrol (27.4 percent).
The city's total retail and service revenues in the first quarter of 2008 were expected to reach VND52,548 billion, a 40.3 percent year-on-year rise. To the figure, the State-owned businesses contributed VND11,505 billion, a 102.7 percent rise; the non-State sector, VND39,444 billion, a 29.5 percent rise; and the foreign invested sector, VND1,599 billion, a 21.3 percent rise.
The HCM City Business Association predicted a new wave of price hike in early next month, with consumer prices increases of between 5-50 percent compared to early this year as businesses could no longer suffer losses due to the impacts of the petrol price increase.