Experts and officials conferred new administrative models for Ho Chi Minh City at a workshop held in the city on Thursday to help improve the current administrative system's effectiveness.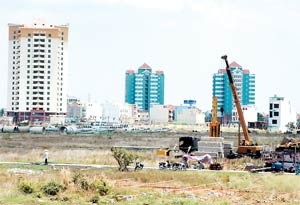 Urban development planning is a headache for the city's administration (Photo: SGGP)
Over 300 scientists, experts, officials and politicians attended the conference, which underscored the system's ineffectiveness and officials' lack of administrative skills.

Diep Van Son, an expert, suggested an administrative model with councilors at only one level (city) and abolishment of the district-level and ward-level council committees.

Dr. Nguyen Minh Hoa, lawyer Vo Thanh Vi and other participants agreed with the suggestion, saying that the district level and ward level were actually not effective.
Lawyer Vi also mentioned the fact that each ward had its own urban zoning map, thus having its own administrative way. Therefore, participants suggested abolishment of administrative boundaries between wards and districts to assure a smooth administrative system.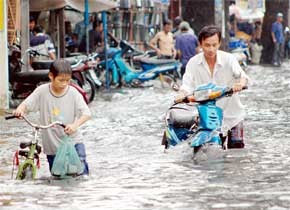 How to lessen flooding in the city is also a big question (Photo: SGGP)
As for the city's departments, Mr. Le Thanh Sang said each one' tasks, duties and responsibility should be re-defined so that they do not overstep each other. Those departments in charge of counseling should belong to an office called Mayor Office.
Mr. Phan Xuan Bien, head of the city's ideological and cultural committee, said changes to any urban administrative system needed careful study.
Researcher Nguyen Dinh Dau mentioned problems to solve such as traffic congestion, flooding, human resources development, and strict rules on city dwellers' behaviors.
Dr. Pham Minh Tri said a modern administrative system should meet standards in terms of security and order, environment, the quality of life, culture, civilization and other aspects. He said there should be regulations on the standards and enforcement of the rules must be ensured.
Dr. Le Xuan Diem said it was advisable not to hastily hurry in setting up a new administrative system because there were still lots of things to do before that and preparations had to be conducted very carefully.