A total of US$70,000 has been collected via a fundraising night in Ho Chi Minh City to support victims of a 6.3 magnitude quake on February 22 in Christchurch, New Zealand's second largest city, the fundraising organizers said.

Organized by New Zealand expatriates and the New Zealand Chamber of Commerce, together with Chambers from other nations, at the Caravelle Hotel on Mar. 3, the event was attended by many sympathizers of different nationalities.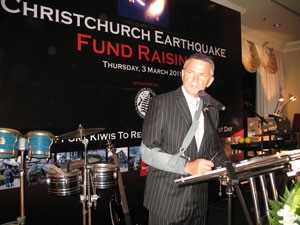 Graham Sims, New Zealand Consul General in HCMC, delivers New Zealand PM John Key's message for the fundraiser on Mar 3, 2011 (Photo: Tuong Thuy)
Part of the funding for Christchurch survivors came from an auction and raffle during the fundraiser.

"New Zealand's Prime Minister John Key notes, quite rightly, that this is New Zealand's darkest day," said John Gardner, general manager of the Caravelle and a Christchurch native.

"In some small way, we here in Ho Chi Minh are capable of extending a little bit of brightness. That's what Thursday's night is all about."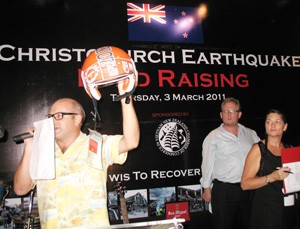 A helmet is auctioned during the fundraiser (Photo: Tuong Thuy)
New Zealand Consul General Graham Sims delivered a John Key message for the earthquake fundraiser. The message reads, "I'd like to extend my deepest sympathies and condolences to those of you who have been affected by this tragedy. My thoughts are with you all at this dark time.

"I'd also like to thank everyone who is here today for your support and generosity…

"Any donation you make to the earthquake appeal will be sincerely appreciated, no matter how small or big. Though lost lives will never be replaced, and though Christchurch will never look the same again, we will rebuild this great city."

Then, many images of death and destruction on a dreadful scale in Christchurch were projected. Many tears dropped down from the fundraising goers.

New Zealand's confirmed death toll from the destructive earthquake stood at 165 on Saturday, Mar 5.