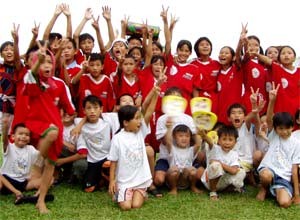 Children from homeless shelters in Ho Chi Minh City attend a soccer tournament held just for them by the Saigon Town and Country Club in District 2. (Photo: Tuong Thuy)
Almost 100 street children and kids living at homeless shelters in Ho Chi Minh City attended a forum on child rights and duties on Friday.
The participating children expressed their wishes for education, entertainment, healthcare and other activities to city officials at the forum organized by the HCM City Committee for Population, Families and Children.
Most of the participants said they wished to have an identity card so that they could attend vocational schools and colleges to prepare for future jobs and lives as productive citizens.
It is estimated that Ho Chi Minh City has about 2,000 street children.