Ho Chi Minh City's Party chief Le Thanh Hai and chairman Le Hoang Quan on Wednesday held talks with Lao Prime Minister Bouasone Bouphavanh, who is visiting Viet Nam on August 29-31 to bolster the two neighboring nations' established and multi-faceted relations.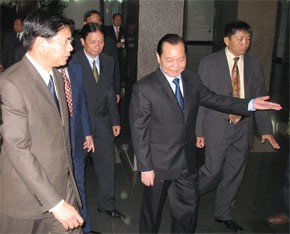 Mr. Le Thanh Hai (2nd, R) welcomes Lao Prime Minister Bouphavanh (L) (Photo: Tuong Thuy)
"The visit marks a new step in the two countries' friendship relations," Mr. Hai said at the meeting in Ho Chi Minh City's Re-unification Palace.

Mr. Bouphavanh, who arrived in Ha Noi Monday, is on his first overseas trip after he was elected prime minister in June.

Participants at the talks included Lao Deputy Prime Minister and Foreign Minister Thongloun Sisoulith and local authorities.
Both sides shared an idea that the two countries need to make more efforts to further tap the nations' potentials to facilitate their multi-faceted relations, especially in boosting trade and economic ties.
The Lao PM said Viet Nam is ranking second among the 30 countries investing in his nation. He appreciated support from Viet Nam in general and Ho Chi Minh City in particular for his country.
Ho Chi Minh City Party chief Hai said the two sides need to continue seeking to preserve and develop special relations between Viet Nam and Laos that have been built by late President Ho Chi Minh, late President Kaysone Phomvihane, the parties and people of the two countries.
Mr. Bouphavanh will leave Ho Chi Minh City – Viet Nam's southern economic and commercial hub – on Thursday to finish his three-day visit.

Related article
Vietnamese Leaders Welcome Lao PM