The number of regularly flooded sites in Ho Chi Minh City is expected to decrease this rainy season, thanks to the completion of several projects. However, according to a recent report by city authorities, the flood risk level for 96 sites, mainly in center of the city, remain high.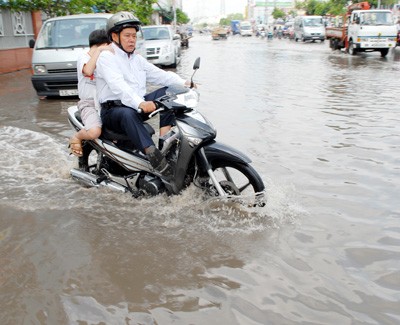 Heavy rains on June 14 causes flashfloods in Kinh Duong Vuong Street, District 6. (Photo:SGGP)
Though the city has been implementing water drainage and environmental protection measures for ten years, focusing on preventing floods in the city center areas through big projects such as the Nhieu Loc – Thi Nghe Environment Sanitation Project, Water Environment Improvement Project for Tau Hu – Ben Nghe basin and others, the flood situation is unlikely to improve anytime soon.
According to the city Steering Committee for Flood and Storm Prevention and the Committee for Search and Rescue, there are more than 62 sites in center of the city at risk for flooding when heavy rains and high tides occur.
At District 5, local authorities also recorded many streets such as Tran Hung Dao, Chau Van Liem and Phu Huu at high flood risk.
The are some streets in District 10 that flood on a regular basis, including Le Hong Phong, Tran Nhan Ton, Thanh Thai and 3/2 streets.
Residents of Binh Tan District far from the city center, always feel the pressures caused by floods such as obstructed traffic.
Main reasons revealed
Le Thanh Liem, deputy head of the city's Steering Committee on Storm and Food Prevention and Control, said there are various reasons causing the situation. Among them, some drainage projects, water supply projects and other roadwork projects are currently being implemented, leading to the obstruction of water flow.
In addition, some irrigation and water drainage projects, considered urgent, are behind schedule such as the drainage project along the Saigon River, Liem said.
The city's departments, sectors and districts lack the close-knit, comprehensive cooperation necessary to operate projects smoothly, Liem added.
Liem also expressed that if city authorities do not find effective measures soon, floods will continue to cause hardships for residents living in inner city and suburban areas.