Not all development zoning plans but the suspended ones will be cancelled by Ho Chi Minh City authorities, city vice mayor Nguyen Van Dua has reiterated.
He told Sai Gon Giai Phong newspaper that the Ho Chi Minh City People's Committee has assigned the task to the Department of Zoning and Architecture.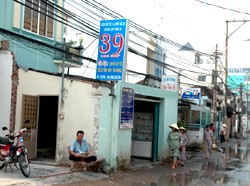 A suspended zoned erea in Ho Chi Minh City where it is all to hard for residents to improve their living situation (Photo: SGGP)
He said the committee encourages property developers to speed up work on their projects as one of the ways to lessen consequences of suspended development zoning plans.
"The overall object of zoning is to improve the city dwellers' life," he said.
"Suppose that the plan for a 12-meter alley not feasible, it is necessary to adjust down to eight meters, enough for ambulances or fire trucks."
"But if the whole neighborhood's conditions are poor, all development zoning plans for the quarter need to be replaced. Then, all residents will be moved out so that the area will be re-built into apartment blocks with new inner roads and greenery sections. Then, the old residents will be relocated again to the built-up area," said Mr. Dua.
Ho Chi Minh City officials are engaging Japanese experts to adjust development zoning plans, he added.
In another effort, the People's Committee is taking back licenses granted to property developers that have not carried out their projects or fallen behind schedule.
Mr. Dua said at least 20 licenses have been taken back since 2005.