So far this year, 155 foreign-invested projects have been licensed in Ho Chi Minh City with a combined capital of US$780.2 million, a threefold increase year on year.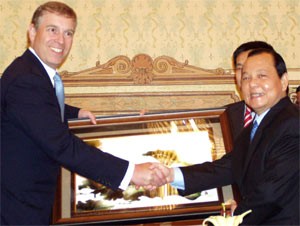 Early June 2006, British Prince Andrew (L), British special representative for international trade and investment, meets with the then HCMC Mayor, Le Thanh Hai (R), to boost trade and investment. (Photo: Tuong Thuy)
Of the new projects, 126 are totally foreign-owned with US$719.7 million in capital, 27 are joint ventures and two are operating under business cooperation contracts.
In addition, 66 operational foreign projects have increased capital by US$170 million in all, pushing the total value of foreign investment in Ho Chi Minh City up to US$950.2.
More foreign direct investment is still poured into industry, property trading, consulting services, construction, health care, and banking.
In the first seven months of the year, Ho Chi Minh City's export revenue increased by about 17.8% to US$7.94 billion, according to the city Statistics Office. Rice, aqua-products, garments, footwear and some other items have enjoyed rises in both revenue and quantity.
Also during this time, the city exported 9,630 tons of crude oil worth US$9.4 billion, down 5.9% in quantity but up 22.4% in revenue due to higher prices.
Despite export difficulties, the city's footwear shipments were worth US$140.9 million, rising by 6.4%. Footwear exporters have been seeking to diversify products and tap new markets to avoid the European Union's anti-dumping tariffs against shoes with leather uppers.
In the first seven months, exportation of milk and dairy products created US$28.3 million, down 48.9%.