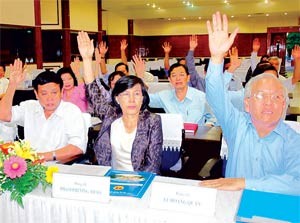 Delegates approve the congress's resolution on Monday (Photo: SGGP)
The Ho Chi Minh City Party Committee's executive board at its Monday congress passed 14 targets for the city's socio-economic development and the budget estimate for next year, with the city economy set to increase 12.2-12.5%.
The targets include a year-on-year 15% rise in export revenue (excluding crude oil export), the total development investment increasing by 18.4% to VND74,500 billion, tax revenue rising by 13.9% to VND78,000 billion, and budget spending of VND15,700 billion, equal to 82.65% of that of this year. 
The city will also plan to provide jobs for 250,000 people, including 110,000 newly-created jobs, reduce the unemployment rate to below 5.6% and the poverty rate down to 4.6%.
In his speech at the closing session, city Party chief Le Thanh Hai asked the city to take action right in the beginning of next year to embrace the targets. He placed importance in accelerating administrative reforms to improve the investment environment and living conditions in the process of international integration.
He urged all units to strictly implement the city Party Committee's action plan to prevent and combat corruption and wastefulness. Mr. Hai underscored the importance of the combat in line with policy of the Viet Nam Communist Party.
He said officials who are irresponsible in working or have lost prestige must be replaced immediately instead of waiting for some reviews.
The city's Party leader stressed that civil servants must work whole-heartedly, place public interest higher than individual interest.
Related article
City's Party Executives Begin Year-End Conference