HCM City is seeing an unprecedented increase in the number of vehicles on its roads, which will cause traffic to worsen in 2009, the reports HCM City Department of Transport and Public Works.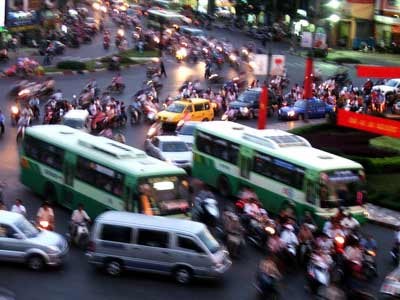 A traffic jam in Ho Chi Minh City
Dr. Pham Xuan Mai, from the Polytechnic University, said there are currently 3.7 million vehicles and 370,000 cars on HCM City's streets. Each day, the city sees an increase of 100 cars and 300 motorbikes.
The city's streets are also teeming with over 700,000 motorbikes and 60,000 cars entering the city from other provinces, also according to the expert.
To make the situation worse, many road-construction projects are behind schedule, forcing a large number of vehicles into narrowed roads causing unavoidable traffic jams.
A sharp increase in public transport has also put more pressure on the already-overcrowded streets, though these will hopefully reduce congestion in the future.
Consumers are encouraged to buy motorbikes by advertisers but are not persuaded to use different forms of transport to protect the environment and reduce traffic jams. People continue to buy bikes and react when any proposals to limit vehicles are announced.
Traffic violations in the city are common: driving with more passengers than permitted, driving against the flow of traffic, driving on closed roads, ignoring red lights and ignoring traffic police officers' orders.
Many proposals to ease traffic jams have been reviewed, including possible road expansion, assigning more traffic police at intersections, developing a more effective traffic network and raising public awareness of traffic safety. HCM City authorities have been considering all proposals to determine the most effective measures to tackle the issue.
The city has been working on projects to ease traffic problems, such as building Phu My bridge and Tan San Nhat- Binh Loi road.