Top leaders of Ho Chi Minh City on Wednesday pledged to foreign investors that the city authorities, within their power, would immediately address bottlenecks in their business in the southern economic hub.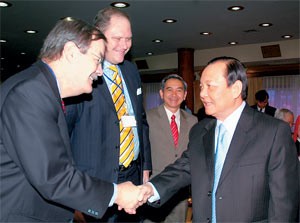 Mr. Le Thanh Hai (R) greets a foreign investor at the meeting (Photo: SGGP)
City Party chief Le Thanh Hai and Chairman Le Hoang Quan met with international investors and diplomats at a year-end meeting. The participants posed questions to the city leaders about taxes, urban planning, land management, infrastructure, intellectual property, development of services, legal and administrative reforms, and equitization of State-owned enterprises. 
Chairman Quan said the city continued calling for more foreign investment in infrastructure development, industry and other areas.
He added the city authorities always attached great importance to the fight against corruption. Failure in the combat would harm trust of city dwellers and foreign investors, Mr. Quan stressed.
"As for questions you hesitate to raise here at the meeting, you can send them to us. We will answer with full details as soon as we can" he said.
 
City Party chief Le Thanh Hai mentioned four major groups of measures to further enhance the southern hub's economic development.
Regarding urban development planning, he said foreign consultants were being engaged to work out an overall map for the job until 2025, in which, detailed plans for the city's center and some new urban areas and industrial parks will be finished before other plans.
The city authorities will ask the Prime Minister to focus on development of technology and service areas in the metropolis to make its investment environment more attractive.
About land issues, the city authorities will try their best to create more convenience for investors. As for investments in infrastructure such as building bridges, roads and ports, city officials will help investors in site clearance and compensation at construction sites.
For human resources development, more public spending will go to education. Officials are ready to discuss personnel issues with investors right from the preparatory steps for projects.
In administrative reforms, task forces will be set up to address hindrances and problems. They will also look at proposals from enterprises.