To ensure timely, adequate party supplies for the lunar new year holidays (Tet), the Ho Chi Minh City Department of Trade (DoT) met yesterday with wholesalers discuss buying and distribution plans.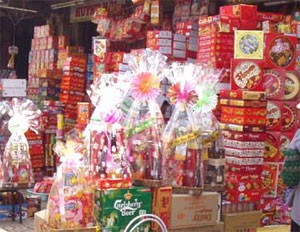 Goods displayed for sale for Tet at a wholesale market
At a meeting organized at the Binh Dien wholesale market, city DoT Deputy Director Truong Trung Viet outlined plans for how big wholesalers can buy and sell sufficient goods to enough retailers in time for Tet (Viet Nam's week-long lunar new year holidays).
Most wholesalers confirmed their markets will open 24 hours a day over the 20th-29th days of lunar calendar (January 20-26, 2008)  so retailers in urban, suburban and areas neighboring HCMC can buy goods to sell to consumers.
The number of registered traders in wholesale markets has rising lately and volume of wholesale sales is estimated to rise between 25-30 percent by Tet.
At the Binh Dien wholesale market, volume of aquatic products is estimated to reach 700 tons a night and fruit and vegetables 1,100 tons per night. Notably, the 920-sq. meter agricultural product market in Hoc Mon district is to become a wholesale watermelon market this year.
As a measure to ensure food hygiene and safety, Viet urged the managements of all wholesale markets to coordinate with the HCMC Department of Agricultural, Forestry, Aquatic and Sea Product Quality Control and Protection to set schedules for regular food hygiene and safety checks on goods every night to guarantee their quality before distribution to retailers.