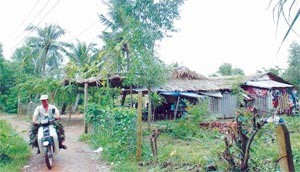 This area located in Binh Thanh District is under the city's detailed planning for many years.

This year, the city planning will be updated to suit current city life. In cooperation with the Ministry of Construction and relevant bodies, the planning will go into detail of Ho Chi Minh City's role and location in connection with nearby provinces.
According to the newly adjusted town planning, the city's population is predicted to reach about 10 million by 2025. This includes 7.4 people living downtown which exceeds the 1998 estimates by 1.4 million.
Ho Chi Minh City's expansion will be in most directions. Due to good geology and large population, the districts of Binh Tan and Binh Chanh are on the fast track to their development as urban zones.
More space will be given to plan for building science and technology zones pertaining to universities and hi-tech parks. These will make their home in Thu Duc District and District 9, while Nha Be and Can Gio Districts will be the two port/industrial zones.
Binh Thanh and District 4 will be added to the central area of the city. The areas near Ha Noi Highway will be the center of Thu Duc District and Districts 9. The industrial areas of Cu Chi, Binh Chanh and Nha Be are planned to increase from 6,000 to 9,000 hectares.
New subjects like public transport, removing the Sai Gon Port and developing Hiep Phuoc – Cat Lai port complex will be added to this year's city planning.
While the city planning is being adjusted, the Ho Chi Minh City Department of Planning and Architecture (DPA) finds itself hard pressed to keep the projected deadline of 2007 for its planning revisions.
"Theoretically, the detailed planning has to be conducted along with the city planning. But, as for the requirements, we have to adjust the city planning while removing the detail planning," said vice director of the DPA Tran Tri Dung.
33,000 hectares in Ho Chi Minh City was approved in planning from 1993 to 2004. So far, the number has risen to 76,000 hectares. 32,000 have been assessed by the DPA with the remainder to be completed this year.