Ho Chi Minh City's agricultural restructuring program has reduced income gap between urban and rural citizens, made the city a breeding and seedling production and supply center, and increase export turnover since it was approved in 2004.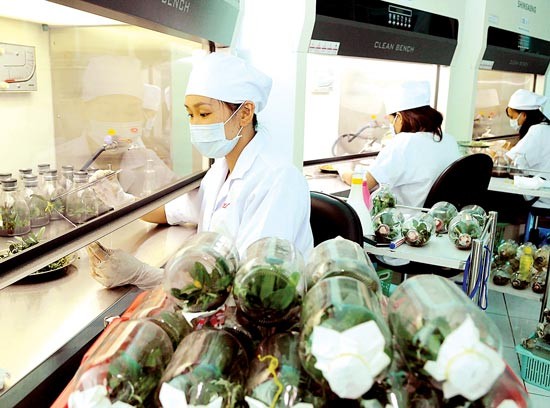 Orchid multiplication at the HCMC Hi-Tech Agricultural Research and Development Center (Photo: SGGP)
At an online conference to review the country's agricultural industry in 2014, deputy chairman of HCMC People's Committee Le Thanh Liem said last year the city's agro, aqua and forestry Gross Domestic Products (GDP) went up 5.8 percent over 2013, much higher than the country's 3.3 percent.
The growth rate averaged 5.8 percent in HCMC and appropriated 3 percent in the country in the phase of 2011-2014.
GDP per capita in HCMC suburb has increased to account for 80.5 percent of that in center areas, cutting income gap between rural and urban citizens to 1.2 times from 1.8 times before.
They are results from the city's agricultural restructuring program, which gave farmers incentives to convert their low yield rice areas into other product farming bringing better economic value.
In the 1990s the city's agriculture seemed to make no progress when urbanization occurred and the first real estate fever erupted. GDP growth rate swung around only 1 percent a year.
The agricultural restructuring program has been implemented towards increasing the added value and quality of farmed products and production effectiveness.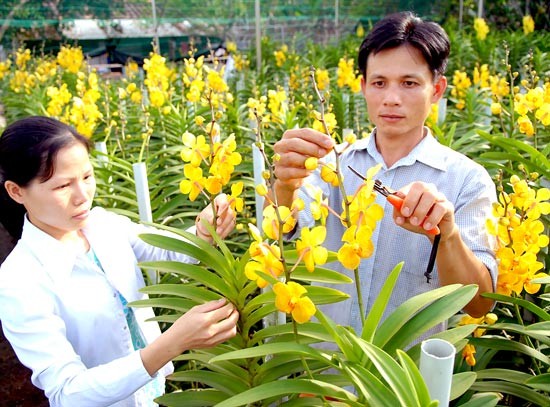 Farmers grow orchids in Cu Chi district, HCMC (Photo: SGGP)
It has provided interest rate assistance to farmers to cultivate new plants and breed animals with high economic value such as safe vegetables (vegetables meet food safety and hygiene standards), orchids and dairy cows.
Last year average production value per hectare of cultivated land was VND325 million (US$15,226) in HCMC, up 15.2 percent over 2013 and twice over 2010. The country's average number was VND100 million a year.
HCMC has become a breeding and seedling center not only supplying domestic farming but also exporting many products.
Businesses exported 415 ton seed varieties such as corn, vegetables, bean, flower, and fruit plants to the Netherlands, Italia, Taiwan (China) and Cambodia in 2014.
They shipped nearly 300,000 orchid stems worth VND3 billion to Cambodia, 1,000 frangipani grafts to Japan, and 1,000 tons of vegetables including pumpkin, cabbage, herbs and black saffron to European, American and Asian nations and Dubai in the Middle East.
On the same year 11 million ornamental fish, nearly 16,000 crocodiles together with 1,500 crocodile leathers were sold to China, South Korea, Georgia and other European nations.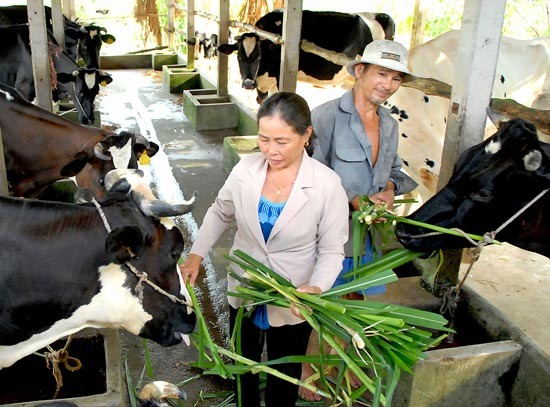 A dairy farm in Cu Chi (Photo: SGGP)
HCMC also supplied over 900,000 breeding pigs and 24,000 breeding milk cows to farms across the country.
Besides mapping out a right policy on urban agricultural development, the city authorities have timely given farmers incentives such as loan interest rate assistance to make the program successful.
According to the Department of Agriculture and Rural Development the city has achieved success in carrying out Public Private Partnership, which mobilized 96 percent of investment capital in agriculture development from social sources.
HCMC is striving to complete its new rural development program by next year to celebrate the 40th anniversary of the country's Reunification Day.