Ho Chi Minh City has allowed the partial use of sidewalks for parking two-wheel vehicles as a temporary solution to the severe shortage of parking space, especially in the downtown area.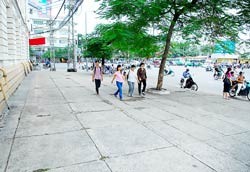 The sidewalk of Quach Thi Trang Square is proposed to be used as a parking lot for motorbikes
District 1, for instance, has huge demand for parking since office buildings, commercial centers, hotels, and restaurants have mushroomed here.

Based on the city People's committee decision, local authorities said they would seek the use of sidewalks on streets like Nam Ky Khoi Nghia, Pasteur, Le Van Huu, Nguyen Du, Hai Trieu, Nguyen Trung Truc, and the corner of Ham Nghi and Huynh Thuc Khang Streets for paid parking.

A senior official in the District 1 People's Committee said the locations have been surveyed and approved by the concerned agency.

A unit in charge of public services will now be entrusted with the task of setting up parking lots for two-wheeled vehicles.

But no vehicles will be allowed to park on Le Duan, Nguyen Hue, Dong Khoi, and Le Loi Streets, which are considered "model" boulevards and streets.

Peddlers too are not allowed on sidewalks here.

There will be some space earmarked for free parking too -- sidewalks on streets off Le Duan, Nguyen Hue , Dong Khoi, and Le Loi Streets will be partially used provided they are at least 3.5 meters wide.

Similarly, sidewalks over 3.5 meters wide on 14 main streets -- Vo Thi Sau, Dien Bien Phu, Hai Ba Trung, Nguyen Thi Minh Khai, Nam Ky Khoi Nghia, Ton Duc Thang, Ly Tu Trong, Le Thanh Ton, Nguyen Huu Canh, Ham Nghi, Pasteur, Tran Hung Dao, Cach Mang Thang Tam, and Nguyen Van Cu -- will also be partly used for free motorcycle parking.

Visitors to companies, shops, and households on these streets will be allowed to park in front.

However, the number of parking lots for cars, currently at 30, will remain unchanged.