The Ho Chi Minh City People's Committee has approved a detailed plan to build Mien Tay (Western) coach station over 20 hectares in An Phu Tay commune, Binh Chanh district to replace the existing station in District 6.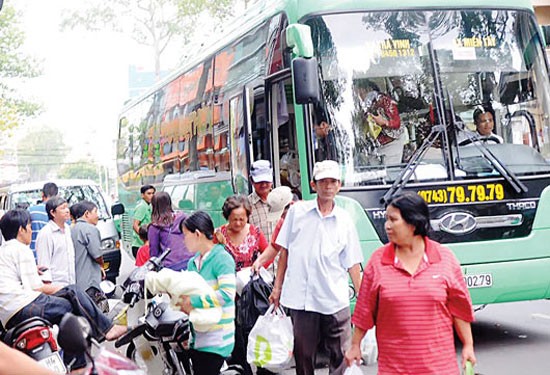 A HCMC-Tra Vinh coach plying at a location in Tran Phu street, district 5 (Photo: SGGP)
The new station's capacity will reach 50,000 passengers with 2,500 coaches departing for provinces in the Mekong Delta a day.
 
The project will comprise hotels, commerce and service site, office buildings and shopping malls. The station will synchronously connect with Metro line no.3a, monorail and busway system.
 
The people's committee has assigned Saigon Transportation Mechanical Corporation to be investor of projects to build new Mien Dong (Eastern) and Mien Tay coach stations. Building of the stations is part of the city's transport development plan by 2020 with vision till 2025.
Mien Dong coach station is now located in Dinh Bo Linh street, Binh Thanh district, where has regularly been jammed with a huge volume of buses and coaches moving in and out from the station everyday.
 
Experts have said that the city should tackle operation of illegal coaches and stations to ensure the efficiency of the two new stations.