Operators of ferry stations in Ho Chi Minh City who allow ferry owners to violate safety regulations three times will lose their licenses, the Waterway Traffic Management Division has warned.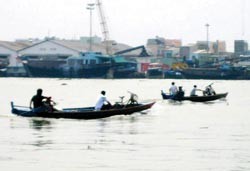 Boats carrying people across the Sai Gon River in HCMC (Photo: SGGP)
Tran The Ky, its chief, said his division and other agencies made random checks of some ferry stations and found some in Nha Be and Cu Chi Districts still allowing boats to be overloaded.
The stations have been instructed to monitor ferries and penalize owners carrying more than the permitted number of passengers.
Commenting on an SGGP story February 10 on boats at the An Loi Dong ferry station carrying motorcycles across the river, Mr. Ky said the station had violated the law because it does not have a license to transport bikes.
It is difficult to punish passengers travelling on boats without life jackets because they are only encouraged to wear them and not obliged to do so, he said.
Related article:
HCMC ferries disdain safety regulations