Ho Chi Minh City's budget revenue reached VND31,130 billion (US$ billion) in January, an increase of 15.5 percent over the same period last year, said director of the Department of Planning and Investment Su Ngoc Anh at a meeting yesterday.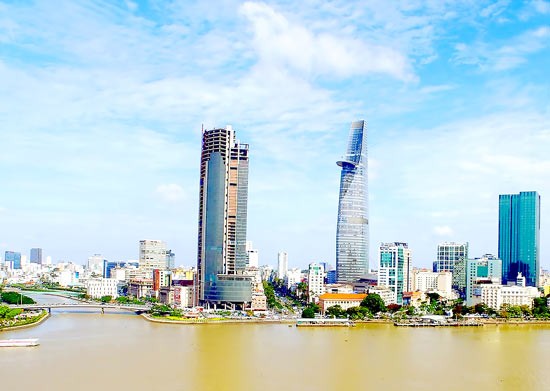 Downtown HCMC (Photo: SGGP)
Budget spending also went up 8.3 percent to hit VND2.4 trillion (US$108 million). Total retailed revenue of goods and services in the month--peak shopping time for the Tet holidays neared VND64.7 trillion (US$2.91 billion), up 4.1 percent over the previous month and 13 percent against the same period last year.
Consumer price index reduced 0.03 percent against December with three down groups namely services, health, traffic and telecommunication and five slightly up groups including beverage and cigarettes, garment-textile-footwear, housing-water-electricity-gas, household appliances and other goods and services.
According to report by the city's People's Committee, HCMC export turnover approximated US$2.4 billion, sliding 0.5 percent from a year ago because the export value of crude oil reduced up to 50.3 percent.
Import turnover reached US$2.86 billion, a year on year increase of 9 percent, creating a trade deficit of over US$400 million.
The number of international visitors to the city saw a year on year hike of 8 percent totaling 445,600 bringing VND8,340 billion (US$375.3 million) in revenue, up 7 percent.
So far the program connecting banks and enterprises has loaned VND173,200 billion (US$7.79 billion) to 4,732 customers. The demand stimulation program has approved 132 projects with a total capital of VND13 trillion (US$585 million).
At the meeting, deputy chairman of the People's Committee Le Van Khoa asked the banking industry to ensure sufficient credit supply for production and trading before, during and after the Tet, examine ATM post system to prevent any cash withdrawal congestion. Relevant agencies should keep an eye on Tet goods conditions in both quantity and quality at wholesale markets and trade centers.
Chairman of the People's Committee Nguyen Thanh Phong instructed districts and relevant departments to concentrate on solving difficulties especially in administrative procedures for businesses to develop production and trading.
The city's economic growth rate was rather good in January with most norms posting a year on year increase, which is a positive sign for the city to strive for socioeconomic targets this year, said Mr. Phong.
In January the number of newly established businesses raised nearly 30 percent in number and 90 percent in capital and foreign direct investment remained unchanged, he added.