The Ho Chi Minh City has asked the Government to recognize the Reunification Palace in the city as a special national relic.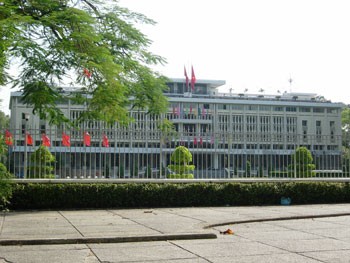 The Reunification Palace in the heart of District 1 (Photo:KK)
The People's Committee has sent a proposal for the purpose to Prime Minister Nguyen Tan Dung and the Ministry of Culture, Sports and Tourism after recent scientific discussions provided greater insight into the building's historic and cultural values.
The palace's architecture was recognized in 1989 as a national historic relic by then Ministry of Culture.
It sits on a 12-hectare site in the heart of the city bordered by Nam Ky Khoi Nghia, Nguyen Thi Minh Khai, Huyen Tran Cong Chua, and Nguyen Du streets, and surrounded by immense lawns and perennial trees.
It was built for the French governor of Indochina between 1865 and 1869 and designed by French architect Hermitte.
From 1954 to 1975, the Independence Palace, as it was called, was the home of some presidents of the Southern Vietnamese regime and their families.
In 1962 it was damaged by bombing but was reconstructed by 1966. Architect Ngo Viet Thu, the first Vietnamese laureate of the Rome Prize, designed a new palace. It consists of a five-storied building with 100 rooms and halls, each decorated in a different style.
After independence in 1975, its name was changed to Reunification Palace and has since become a historic monument attracting a large number of foreign and local visitors.