Ho Chi Minh City Party Committee and authorities' target for the 2015-2020 term is to develop it into a modern, civilized and humane city with good life quality playing motivational role in the country's industrialization and modernization cause, soon becoming an large economic, financial, commercial and science and technology hub in Southeast Asia.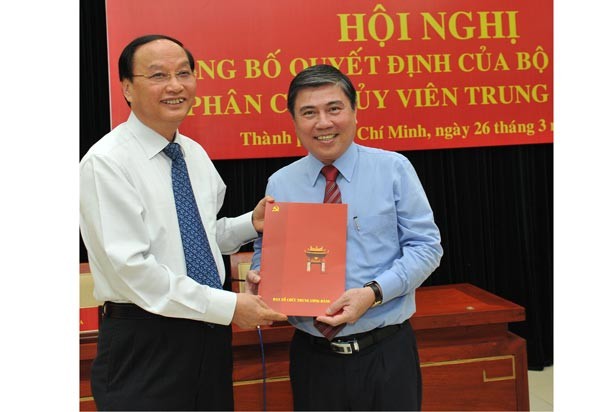 HCMC People's Committee Chairman Nguyen Thanh Phong (R) (Photo: SGGP)
In an early 2016 interview with Sai Gon Giai Phong Newspaper, newly elected chairman of the HCMC People's Committee Nguyen Thanh Phong talked about missions and solutions needed to do in the upcoming time for the city to get the above target.
 
Looking back the past development process of the city especially for the last five years, Mr. Phong said that HCMC has been more spacious, beautiful and cleaner and quality of life has been much improved.
 
The HCMC Party's Committee and authorities had followed close on the reality, promoted the general strength of the political system and residents, created social consensus to basically complete targets set for the phase of 2010-2015, obtain great and comprehensive achievements and elementary changes in social life contributing to common successes of the southern region and the country.
 
Specifically economic growth averaged 9.6 percent a year, 1.66 times higher than that of the country. Consumer price index was under control. Economic structure changed on the right orientation, economic restructuring gave initial results and the new rural development program was basically accomplished. Growth quality, competitiveness and investment efficiency increased.
 
Urban management and development posted positive changes. Many large scale works were opened for service such as canals Nhieu Loc-Thi Nghe, Tan Hoa-Lo Gom, Vo Van Kiet boulevard, Saigon River tunnel, Pham Van Dong road, Tran Van Giau street, Ho Chi Minh Statute Square, Nguyen Hue walking street and others.
 
Works on climate change adaptation, natural resource management and environmental protection had been strengthened. Culture, society, education and training and science and technology had positive changes. Health care quality was improved, social welfare policies reached many practical results, GDP per capita hit US$5,538 by the end of last year.
 
Political security and social order was held steadily. Foreign affairs were broadened efficiently.
The role and position of HCMC to the country has been more and more asserted, contributing over 20 percent GDP, over 20 percent export turnover and 24 percent budget revenue.
 
Besides the above achievements, there are many limitations and weaknesses such as economic growth unsustainable and inappropriate with potentials. Growth quality and competitiveness amid globally deeper integration have not been high. Urban planning and management have failed to meet requirements of economic and cultural development, social welfare improvement and environmental protection.
 
Especially daily occurring issues such as traffic jam, flooding, food safety and hygiene have negatively impacted the city's socioeconomic development.
 
Solutions for improvement of life quality, competitiveness
 
In the upcoming time, Vietnam will integrate more deeply and widely into the world with economic field in the focus because the country has been WTO membership, implemented commitments in the ASEAN Economic Community (AEC), free trade agreements (FTAs) with many nations and the Trans-Pacific Partnership (TPP).
 
The East Sea dispute, climate change and sea level rise will put heavy pressure on both competitiveness and political stability and strongly affect the city's economic, cultural and social development.
 
International integration has brought advantages and opportunities but difficulties and challenges also which will require to better development quality, effectiveness and sustainability and conserve and prove the national cultural identity.
 
Therefore the city will concentrate on economic restructuring, improving growth quality and competitiveness, increasing the contribution ratio of industries and products with development potentials, competitive advantages, high added value and possibility to attend global value chains.
 
It will mobilize various resources to synchronously develop technical and social infrastructures, improve human resource quality specially high quality sources in accordance with science and technology development, boost information and technology application and administrative reform, better investment and trading environment, reduce and streamline the Government's workforce to improve officials and civil servants' quality and ability, enhance social welfare and residents' life quality, ensure security and national defense and social order and safety in all situations.
 
In addition local authorities will take the initiative in propagandizing and implementing measures on production assistance when Vietnam attends in AEC, TPP and FTAs.
 
For instance they will change, supplement regulations and mechanisms within the city's competence to suit Vietnam's commitments with nations; issue new polices to assist businesses to boost production and trading, improve product quality and broaden market; boost measures on capital, space and technology reform to solve difficulties for businesses especially those of small and medium scales; promote the campaign 'Vietnamese give priority to consumption of Vietnamese goods' and the market stabilization program; intensify the struggle against smuggling, trade fraudulence, counterfeits and low quality goods.
 
Top priority to urban planning

A corner of HCMC (Photo: SGGP)
After succeeding in the election for city chairman, Mr.Phong said that he would give top priority to urban planning.
 
Explaining this, he said that the natural condition of HCMC with tangible rivers and canals resulted in spontaneous residential areas and low roofed houses along canals since the time before 1975. Besides sediment has also narrowed inherently small canals while authorized agencies had not paid attention to canal management previously.
 
Those require HCMC to develop new urban areas and focus on urban planning inner the city including relocation of those living in and alongside canals.
 
For the last 20 years, the city has relocated 36,000 households contributing in improving urban landscape along major canals namely Tau Hu-Ben Nghe, Doi-Te, Tan Hoa-Lo Gom, Nhieu Loc-Thi Nghe, Tham Luong-Ben Cat and Nuoc Len.
Technical infrastructures have been fully built reducing environmental pollution, bettering drainage system and improving living environment for citizens.
 
Hence urban planning is a right policy of the Party Committee who has implemented it consistently and thoroughly for the last several years.
 
In the upcoming phase of 2016-2020, this policy should be carried out more drastically to develop HCMC into a modern and civilized place with good living environment and quality.
 
Breakthrough measures will be implemented to continue evacuating residents from canal areas, rebuild old and downgraded apartment blocks, upgrade existing residential areas and develop new urban areas with synchronously invested infrastructures.
 
The city is expected to obtain its target to remove all 19,524 houses from canal area and reorganize residents' life by 2025. The number of displaced houses will reach 9,805 by 2020. Authorized agencies will call on residents and businesses to join hands in this program.
 
Social investment mobilization
 
However, the city will meet a big challenge from capital to practice the above plans. Therefore, it will study social investment mobilization with the attendance of all economic sectors, issue urban bonds to raise capital for site clearance and infrastructure building for urban development, use official development assistance fund to key projects with low capital recovery ability such as metro routes and wastewater treatment plants.
 
Land fund including areas reclaimed from the removal of polluting plants, restructured businesses and ineffective use properties. Land pierces breaking management and use regulations will be sold at auction to have fund for urban planning.
 
Land management will be intensified to timely deter and strictly handle violations. Urban management ability of city administration of all levels will be improved. Parts of redundant resettlement apartments will be shifted into social housing to meet demand of low income people.
 
They are among measures that the city will implement to create breakthroughs in urban development by 2020.