Chairman of the HCMC People's Committee Nguyen Thanh Phong yesterday afternoon presided over a citywide meeting to implement measures to reduce traffic jam in the yearend month and next year.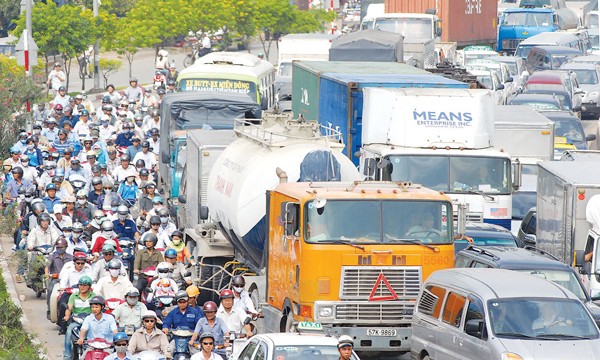 Chairman of the HCMC People's Committee Nguyen Thanh Phong requires districts and agencies to focus on solving traffic jam (Photo: SGGP)
Reporting at the meeting, director of the Department of Transport Bui Xuan Cuong said that next year the department would build 40 key traffic works, develop public transport, control individual vehicles and intensify science and technology application in urban traffic management to solve the issue.
The department proposed the city Police Department to mobilize human resource to regulate traffic during peak hours and strictly handle traffic law violators especially those parking in streets.
Deputy head of the HCMC Traffic Safety Board Nguyen Ngoc Tuong said that one of reasons for traffic jam in HCMC was from spontaneous markets where citizens had encroached roadbeds to do business.
Chairmen of all 24 city districts in 2012 pledged to restore street order along 159 routes but no significant change has been seen.
Therefore, Mr. Tuong proposed the city People's Committee to review street order works in the 159 streets to see which districts have well implemented their commitments and which have not. The city should consider launching the program in all streets not only some major routes.
Deputy chairman of the city People's Committee Le Van Khoa instructed the board to assume the review job and make clear how the situation has changed there. "It is unacceptable that districts have promised with the city to settle the issue but not kept their word," said he.
Reducing traffic jam is the responsibility of not only the Department of Transport but also other agencies and districts, he affirmed and proposed media to accompany the city to seek the best solutions to settle traffic gridlock at 37 spots in the city now.
Agreeing with the proposal, Chairman Nguyen Thanh Phong said that he would have a meeting with leaders of newspapers , TV and radio stations early next year to seek their supports to the city's programs in reducing traffic congestion. He hoped that they would contribute opinions of them and citizens to solve the issue and develop the city.
He required agencies and districts to drastically implement their assigned tasks. The Department of Information and Communications should send SMS messages informing citizens of traffic jam spots to prevent them from traveling into congested routes and worsening the situation.

Districts and agencies who have registered to restore street order along the 159 streets but yet to implement their commitments will see leaders held responsible.
Mr. Phong prompted relevant agencies to crack down on illegal parking as well as illicit operation of coaches and stations.