Hundreds of thousands of measles vaccines have been distributed to medical centers around Ho Chi Minh City for an immunization program for children, especially those up to the age of six, Dr. Nguyen Dac Tho, deputy director of the Preventive Health Department, said on February 9.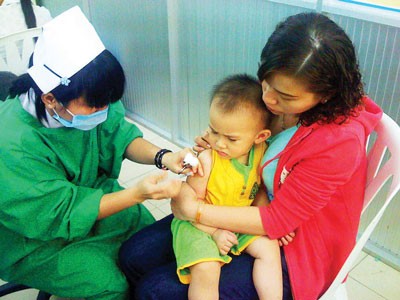 A medical worker is vaccinating a child at the city Nutritious center ( Photo: SGGP)
The program -- to give second shots -- will last until March 6, with district PHD offices sending team of doctors to schools to vaccinate students.
On February 9 doctors administered the shots at schools in Districts 8, 9, 11, Go Vap, Tan Binh, Binh Thanh, Hoc Mon, Tan Phu, and Tan Binh.
Dr. Tho fears that some people who went to Ha Noi for Tet could bring the disease to HCMC. The capital is experiencing a major outbreak of the disease.
But some medical centers have run out of MMR vaccines -- for measles, mumps and rubella. The city-based Pasteur Institute has admitted to a shortage.
The Nutritious Center and Preventative Department too face a shortage of this as well as chicken pox vaccines.
It would take two or three days to get them, a medical worker said.
Meanwhile, in the north 326 patients have tested positive for measles, with adults in the 20-24 age group accounting for 48 percent, Dr. Nguyen Huy Nga, head of the central Department of Preventative Health and Environment, said.
Most have not been vaccinated or are unsure if they got the shots, he said.
The cold weather is conducive to the spread of the disease but Dr. Nga is hopeful it would not become an epidemic since 95 percent of children have got vaccinated against it.