The year's last session of the Ho Chi Minh City People's Council closed yesterday with the implementation of plans for alleviating traffic congestion, flooding and pollution.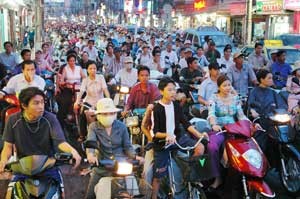 Traffic congestion frequently happens in Ho Chi Minh City.
City Chairman Le Hoang Quan said that in order to reduce urban congestion and improve traffic systems, the city has begun investing in major infrastructure projects over 2008-2010, including the construction of elevated roads and a subway system.
"The city will file law suits against any management board or contractor if they miss deadlines and seriously affect peoples' lives", said the Chairman.
The Council agreed to spend VND142 billion (US$8.7 million) for repairing the Van Thanh 2 Bridge, after which the contractor, construction company and supervisor of the construction are to return some portion of their works' funding to the city budget.
In the final day of the session, the council unanimously decided to collect fees on waste water and impose severe fines on processing and export zones, industrial zones and medical units lacking waste water treatment systems.
Regarding luring more investment into the city, the Chairman outlined four tasks being implemented.
First, the city is to expedite listings and approvals of public investment projects.
Second, the city is to again rationalize its bureaucratic processes to further expedite investments in urban infrastructure and priority industries.
Third, the city will upgrade posts and telecommunications infrastructure and financial and banking services such as upgrading security-exchange boards, implement high-tech exchange boards for real state, e-commerce and high-end labor.
Finally, the city will improve its pool of high-en human resourses, encouraging enterprises to directly train and provide economically appropriate human resourses.
Other decisions for the 2008 socio-economic agenda:
- Request Government reduce taxes on land-use rights in HCMC
- Sell 313 state-owned villas.
- Expedite bureaucratic reform and strictly implement rules on employee etiquette when dealing with the public
- Meticulously investigate and strictly penalize municipal officials violating the law.