Ho Chi Minh City has launched an aggressive campaign to crack down on crime after a spate of vicious attacks on innocent citizens and an increase in the number of robbery and theft cases in recent days.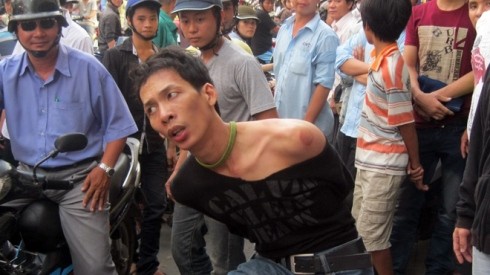 A street robber seized by residents (Photo: Tuoi Tre)
This was disclosed by the Deputy Prime Minister Nguyen Xuan Phuc at a meeting in HCMC on December 14, held to discuss measures to fight criminal and anti-social elements.
The City has not properly adopted the national anti-crime and anti-social evil program or implemented preventive measures against criminal activities, said Phuc, nor has the City coordinated well with the general public to participate in assisting authorities to nab criminal and anti-social elements.
According to a report, police in the City have tried to handle criminal cases and such related incidents, however, the ferociousness of recent robberies have completely unnerved city residents and authorities alike.
 
Moreover, the total numbers of criminal, anti-social and corruption cases have been higher this year than in previous years. The current economic woes and lax management and control of drug addicts returning home are being blamed for the increase in recent crimes.
In order to remedy the present worrisome situation, Phuc said, a plan is urgently needed to mobilize forces to crack down on criminals creating havoc in the City.
The City police department has ordered district units to strengthen control, inspections and patrols to detect and seize any criminal elements or suspects immediately.
Phuc has ordered the City police to immediately protect 'hot spots' in downtown areas and places most frequented by tourists, and where robberies or thefts usually occur, especially in view of the coming Tet holiday season.
Lieutenant General Pham Quy Ngo, Deputy Minister of Public Security; Hoang Nghia Mai, Deputy Chief of the Supreme People's Procuracy and leaders of HCMC People's Committee and Party Committee attended the meeting.