Economic experts believe that Ho Chi Minh City's economy is gradually escaping from the slow growth orbit with increases in the Gross Domestic Product and the state budget revenue in the first half this year.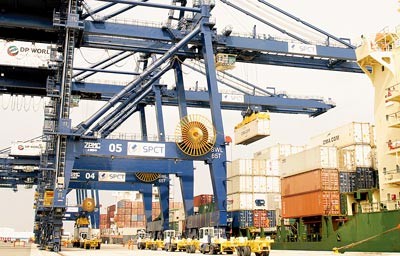 Saigon Premier Container Terminal can receive large vessels in HCMC (Photo: SGGP)
They were speaking at a conference to review the city's socioeconomic conditions on June 23. 
The state budget revenue in HCMC was VND121,910 billion in the first six months of 2014, accounting for 54 percent of estimates and up 15 percent year on year, according to Dao Thi Huong Lan, director of the Finance Department. 
FDI companies contributed most with VND18,312 billion, up 25 percent over the same period last year. This is due to the city's policies of investment assistance. 
The city's economic growth hit 8.7 percent in the year's second quarter, higher than the same period in previous two years, said head of the Department of Planning and Investment Thai Van Re. 
Service sector grew 9.6 percent to account for 59.4 percent of the growth and industry and construction sector grew 6.4 percent to occupy 40 percent of the growth. 
Chairman of the city People's Committee Le Hoang Quan said that the 8.2 percent economic growth in the first six months proved city's economic recovery trend and it also proved good coordination among agencies. 
It creates momentum for the city authorities to strive for the year's growth of 9.5-10 percent as per a resolution of the city Party Committee, he added. 
In response to the HCMC Institute for Development Studies' report on slow disbursement of projects, chairman Le Hoang Quan said that the People's Committee will set up three inspectorates to examine all projects that are slowly implemented in July.