Rising industrial production, a rebounding stock market, and increasing bank deposits and loans are some of the positive signs the Ho Chi Minh City economy has shown this year, the administration said.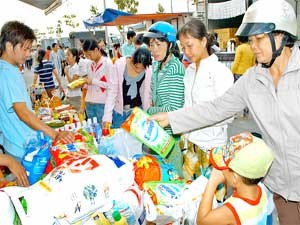 A view of the SaiGon Co.op outlet in Cu Chi District, Ho Chi Minh City. The city economy shows signs of a rebound, with retail sales and industrial output rising, among other indicators. (Photo: SGGP)

In a report the People's Committee delivered at a meeting on May 28 to review the city's socio-economic performance this year, it said May industrial production would expand by 2.5 percent from April and by 5.1 percent from a year earlier.
Aquaculture output increased by 19 percent from the previous month to 1,850 tons.
Retail sales of goods and services in the year to date would amount to VND103.27 trillion (US$6.07 billion), up 17.8 percent from a year earlier.
In May alone, it is likely to be over 20.7 trillion, an increase of 1.8 percent over April.
"At some small markets, prices edged up but in supermarkets and trade centers, they are generally stable and supply remained good," Nguyen Thi Hong, deputy chairwoman of the People's Committee, said.
The city's exports continued to slow down, however, falling by 0.8 percent month-on-month in May to US$1.47 billion. It was down 32.7 percent from the last year period.
However, rice exports alone have fetched US$717.6 million in the first five months of this year, up 70.6 percent year on year.
Since the beginning of the year, 188 domestic businesses and six foreign-invested ones have shut down, making more than 20,000 workers redundant, said Nguyen Thanh Tai, standing deputy chairman of the People's Committee.
Around 80 percent of the laid-off workers have got new jobs, he added.
The May consumer price index (CPI) edged up 0.63 percent, rising by 6.39 percent from a year earlier, Ms Hong said.
 
As a result of the city's efforts to stimulate its economy, consumer spending has showed signs of rebounding, she said.
Following a recent rise in the prices of petrol and electricity, prices of many commodities may increase in the next few months, she warned.
Therefore, agencies concerned should work more often with supermarkets and large markets to keep prices stable, she said.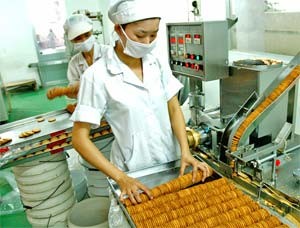 Workers at a new biscuit production line at city-based confectioner, Lubico. Authorities say there is enough money to provide subsidized loans to businesses. (Photo: SGGP)
The fight against trade fraud should also be strengthened, she said.
Enough cash
Under its investment stimulus program, the city has lent nearly VND2.9 trillion ($170.6 million) for 16 projects, of which the interest-subsidized component amounts to VND1.1 trillion, Ms. Hong said.
The authorities are considering 11 another projects for lending, she said.
The city has enough funds for the loans, she assured.
She asked the Department of Planning and Investment to speed up implementation of the People's Committee Decision 20 to facilitate access to such loans.
Official agencies should closely monitor projects enjoying subsidized loans to make sure the money is used efficiently. Mr. Tai said.
The city would continue to give priority to traffic infrastructure and anti-flooding works, People's Committee chairman Le Hoang Quan pledged.

The authorities urged agencies concerned to step up the projects to build dormitories for students and houses for workers and the poor, Mr. Quan said
Despite the signs of an economic rebound, exports, foreign investment and tourism remain sluggish and agencies concerned should tackle the problem, he added.