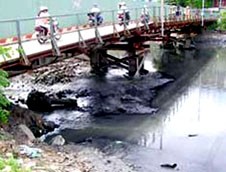 A scene of polluted water in HCMC (Photo: Lao Dong)
A tenth of the 1,402 enterprises identified as causing pollution in Ho Chi Minh City have yet to move out of the city or clean up their act, the Economy and Budget Committee of the city People's Council has said.
It said many have not even drawn up plans to move, but laid part of the blame on official agencies for failing to advise the People's Committee on adopting mechanisms and polices to assist them.
The committee, in a report on the status of these companies, has called on the Department of Natural Resources and Environment to advise the People's Committee.
The report also instructs the firms to address the pollution they cause and petition the city to help them move out.