Ho Chi Minh City has been encouraging farmers in its outlying suburban districts to grow orchids, ornamental trees, safe vegetables and breed all kinds of exotic fish, not just for profits but also as suitably appropriate agricultural products to grow in restricted urban areas.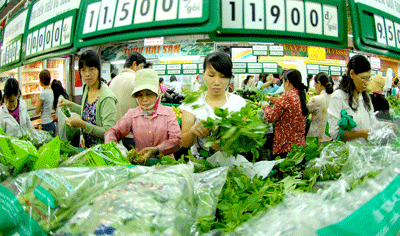 Safe vegetables are now much in demand in big supermarkets (Photo: SGGP)
People in the city consume about 750,000 tons of vegetables per year, but the city itself can only provide for about 285,000 tons, while the remaining comes from other provinces.
The city has a huge market demand of ten million consumers and each year more and more paddy field areas are being converted for vegetable cultivation.
Last year, 57 farmers from Hoc Mon, Cu Chi and Binh Chanh Districts received the VietGap certificate for their vegetable cultivation.
As per the HCMC People's Committee directive, vegetables supplied to the city must meet safety standards, even though farmers have to bear higher costs of production to grow uncontaminated vegetables.
The VietGap production model has been applied in all vegetable cooperatives. Tran Van Hot, chairman of the Nga 3 Giong Cooperative in Hoc Mon District, said his cooperative has planted VietGap vegetables on 10 hectares of land.
Safe vegetable cultivation needs a closer monitoring such as maintaining detailed records of soil treatment, water sources, fertilisers and pesticide as well as time of harvest, processing and transport.
It takes much more time to grow safe vegetables according to VietGap standards; thus the necessary moves in supporting finance and securing consumption output for the cooperatives is very crucial.
To encourage farmers to produce vegetables as per Viet Gap standards, management agencies should build up a consumption network linking farmers and enterprises. Already, safe vegetable cooperatives and supermarkets are well linked in the city. Viet Gap standard vegetables are being sold in markets and retail shops by Tho Viet Cooperative.
In addition, the Huong Canh Company in Hoc Mon District has invested in a closed production process, promising to purchase all Viet Gap vegetables. The company has invested in ozone tanks for sanitizing and keeping vegetables fresh.
The cooperative in Hoc Mon District is a positive example of enterprises supporting farmers' in purchasing only Viet Gap standard vegetables.