Ho Chi Minh City has for years spent hundreds of billions of dong to tackle flooding, but problems like delayed site clearance and lack of capital have slowed down progress on many important projects.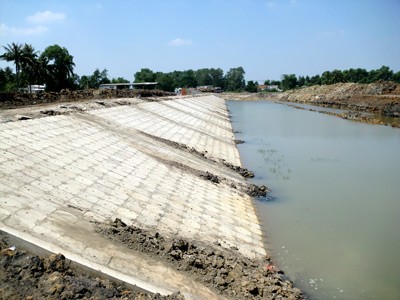 Ba Bo Canal drainage project is behind schedule due to delayed site clearance (Photo: SGGP)
Thu Duc District regularly suffers the worst flooding. Over VND253 billion (US$12 million) from the city budget have already been allocated for the district for construction of five sluice gates, to control recurring high tide.
 
The first sluice gate on Go Dua Canal has begun construction and once complete, it will hold back tide waters in Hiep Binh Chanh, Linh Dong, Tan Phu and Tam Binh Wards.
The four remaining gates will be built in Hiep Binh Phuoc and Hiep Binh Chanh Wards to protect over 3,000 households and existing infrastructure in the district from being damaged by flooding, triggered mostly by high tide and heavy rains.
Over the last several years, the city has carried out a slew of drainage projects. About 200 kilometres of sluice drainage is already   complete to tackle flooding at nearly 200 flood zones in the city.
Nhieu Loc-Thi Nghe sluice gate project is under construction to control flooding in about 500 hectares of low lying area in Districts 1, Binh Thanh and Phu Nhuan. The project is expected to be complete by December this year.
Phu Lam pumping station in District 6 will be in operation before the rainy season this year. Having capacity of 15 cubic metres per second, it will cope with flooding in Binh Thoi, Minh Phung, 3 Thang 2 and Hung Vuong Streets.
Despite all the above efforts, the city sluice system is just able to meet 25 per cent of the flooding problem. It is regularly overloaded and several drainage construction works that have been completed are yet to be connected with the existing system.
Meantime, the Ba Bo Canal drainage project in Thu Duc District is running behind schedule due to delayed site clearance, for over two and a half years. If the work cannot be completed before the rainy season, industrial wastewater from Binh Duong Province will overflow into residential areas.
HCMC is now facing capital shortage for construction of another four sluice gates at Kinh River, Phu Xuan, Vam Thuat and Tan Thuan areas, and for dredging of several canals that will drain floodwater during the rainy season. The city People's Committee has requested the State Government for more capital to complete the above projects.