The traffic system with narrow streets cannot afford the population of around 8 million in Ho Chi Minh City. Experts said the government's efforts to reduce the population in downtown to below 3.5 million failed completely.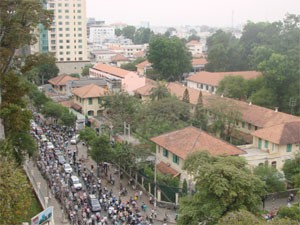 HCMC's town planning focuses on building satellite urban zones surround the center of the city in order to cut down the population density in downtown (Photo:Minh Tri)
"The plan on building new urban zones in outlying areas in an effort to reduce the population in downtown is hardly a success as many people buy lands in suburb, while still living in downtown," Dr. Nguyen Minh Hoa of the HCMC University of Social Sciences and Humanities said.
"Relocating polluted producers to the city suburb has not eased the problem as only employees, who are immigrants, followed their company to the new place. Those who live in the city remain willing to travel long distance to work, which worsen the traffic."
Efforts to relocate people to the outlying areas have seen the HCMC authorities opt to improve the traffic system and build satellite urban zones.
Statistics show 15 industrial parks have been built in the southern hub, of which some help form urban zones in the areas that they are located. They include Nha Be Commune's Hiep Phuoc Port, District 9's hi-tech park, Binh Chanh District's Tan Kien – Tan Tao Industrial Zone and Cu Chi District's northwest satellite urban zone.
Most of them are 10 kilometers far from downtown and have shopping facilities already. For instance, the northwest satellite urban zone in Cu Chi District has separate areas for housing, shopping, education and production.
"HCMC's town planning focuses on building satellite urban zones surround the center of the city. District 1 and 3 are downtown area. In the future, downtown will likely to include Southern Saigon residential zone and the new urban zone Thu Thiem," said Nguyen Dang Son, deputy head of Institute of Urban Research and Infrastructure Development.
Dr. Hoa said the surging amount of students forced universities in HCMC to set up branches in outlying districts, which help form urban zones surround those branches.
Most universities in the city, meanwhile, are small, compared with the number of their students. With a huge amount of students, the University of Economics Ho Chi Minh City has to rent more facilities in various districts. The school even has to rent a coffee shop in Tan Phu District. 
Relocating universities and colleges to outskirts is one of the solutions for traffic jam in HCMC, chairman Le Hoang Quan of the HCMC People's Committee said at a meeting with some local universities.
Experts said, along with students, an amount of employees working at universities and colleges will also move to work at the suburbs.
They noticed that the education development at outskirts will be an important stepping stone to speed up the growth rate of satellite cities.
Some universities and colleges including Ton Duc Thang, Van Hien and Kindergarten Teachers College have started building new facilities in outlying districts, preparing for the relocation.