Flood control experts could not answers a question on causes of flooding after rains in the city asked by Vice Chairman of the municipal People's Committee Nguyen Huu Tin yesterday.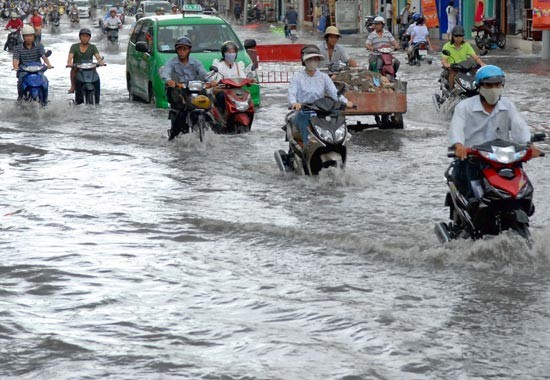 Many areas in Ho Chi Minh City are submerged after heavy rains (Photo : SGGP)
The Vice Chairman criticized the Department of Transport and the Steering Center of the Urban Flood Control Program for not fulfilling its duty which caused concern among residents.
According to the two departments, they have made concerted efforts to fight flooding in districts 1, 3, 4, 5, 6, 8, 10, 11, Tan Binh and Binh Thanh since 2013; however, their efforts have been unrewarded because these districts still have 27 flooded places.
Mr. Tin asked the Department of Transport to report what would take places with the sewer systems in the city during heavy rains and how to handle worse situations.
The Department must hold a meeting with scientists who will propose how to cope with floods and it has to well handle fresh flooding places in 2015, he said.
Mr. Tin said that to handle the situation basically it needs a long time and source of fund. For years, the city has focused on handling 47 flooded places in the city's downtown. However, it takes time to build system of underground pipes, sewers, catch basins, flooding severance sewers and a backwater valve.
Currently three flooding severance sewers have been constructed in Go Dua Canal in Linh Dong Ward of Thu Duc District; Nhieu Loc Thi Nghe Basin and Tan Thuan in District 7. Still, six places need flooding severance sewers; thus, the Vice Chairman urged the two departments to build the remaining sewers.
The two departments also need to check reservoirs in Khanh Hoi in District 4; in Thu Thiem of District 2 and Ba Bo canal in Thu Duc District, he said.
Reports of progress should be sent back to the People's Committee, he added.