Eight years ago Ho Chi Minh City had established a HCMC Housing Development Fund (HOF) to support low-income groups to purchase an affordable house, keeping in mind the high rates of inflation.
However, even after eight years, around 55 per cent of teaching staff in Ho Chi Minh City have to live in rented houses, according to a survey conducted by Sai Gon Giai Phong Newspaper.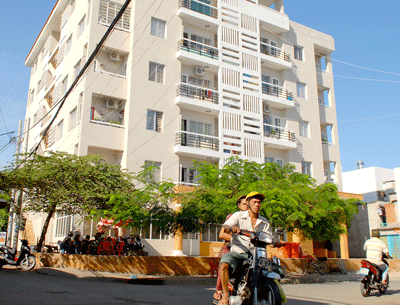 An apartment block on Ba Hom Street in District 6 is part of a social housing scheme for state-run company employees (Photo: SGGP)
Most of them are living in the suburban districts 9, 12, Thu Duc, Go Vap and Binh Chanh. Teacher Huynh Hai Ng, wishing to remain anonymous, of Lam Son Senior School in Go Vap District, said he used to hear about the fund that supports low-income earners like   teachers in buying a house of their own. But when applying, each person was approved only VND400 million, a sum so small that it will not buy a house.
According to the latest HOF report, it has just mobilised approximately VND1 trillion from sources over a period of eight years since it was established. However, recently the fund reported it has lost its main source of revenue as there are hiccups in selling warehouses, vacant land plots and also with a downturn in the real estate market.
The sum of VND1 trillion is only a drop in the ocean compared to the demand for housing by nearly 30,000 teachers and civil servants. Accordingly, the fund only cleared 100 documents out of thousands in 2011, explaining that many documents had failed to meet requirements.
Nguyen Ngoc Thach, deputy chief of the fund, said around 1,000 civil servants, 480 teachers, 150 medical workers, and employees of other sectors, are receiving support from HOF.
The benefit of the fund to support low-income groups is clear, but it needs to relax its loan policies, credit lines, and reduce monthly interest rates to help low-income people access the fund.
Presently, people have to pay interest rate of 0.75 per cent a month if they are given loan amount of VND400 million for a 15 year term. Consequently, people repay principal and interest of VND6 million a month, while their income remains small.
Understanding the demand of a house among low-income state-run staff the city People's Committee ordered the Department of Construction to implement several housing projects to meet increasing need.
Currently, the city has over 100 projects of social houses and low cost houses. Last year, six projects were implemented and 17 others approved.
The fund also organised a hand-over ceremony of 84 apartments in District 12. The apartments were over areas of 51 square metres and 66 square metres ranging from VND500 million (US$24,000) to VND650 million (US$31,400).