Ho Chi Minh City Party Committee Secretary Le Thanh Hai and People's Committee Chairman Le Hoang Quan on Tuesday met and talked with 123 businesses from various fields, listening to their opinions and undertaking to solve their difficulties.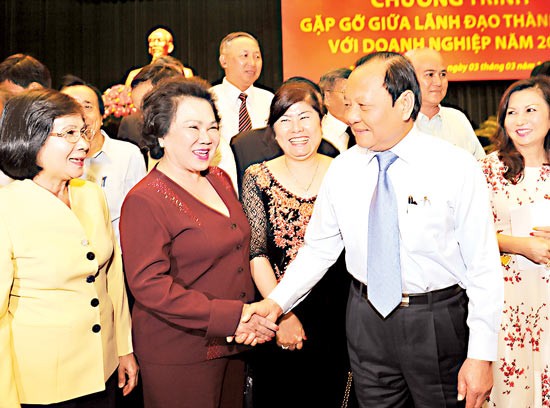 HCMC Party Committee Secretary Le Thanh Hai meets with businesses on March 3 (Photo: SGGP)
Most businesses at the meeting talked about issues concerning to capital, tax and administrative procedures.
Chairman of HCMC Business Association Huynh Van Minh said that HCMC saw 22,423 businesses stop operation in the first 11 months last year or an average of 2,038 a month. The number was only 1,871 companies a month in 2013.
The figures showed that many businesses have still met with difficulties. The housing credit package of VND30 trillion (US$1.4 billion) has been disbursed very slowly to help recover the real restate market.
Many firms have been trapped with deep debts and unable access bank loans. As a result, Mr. Minh proposed authorized agencies to help them lower the interest rate of old loans, extend debt payment time and give interest rate priorities to those making consumer and export products.
Chairman cum director general of Maseco Company Nguyen Xuan Han said that businesses faced with severer competition from global economic integration. Many of them have been forced to go bankrupt and a number of renowned brand names have fallen into the hand of foreign firms.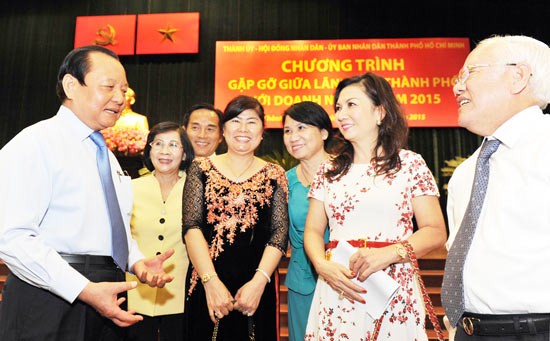 Mr. Hai and Chairman of HCMC People's Committee Le Hoang Quan talk with businesses (Photo: SGGP)
The existence and development of the rest companies depend on Government's mechanisms and policies, he said.
Administrative procedures are very complicated now raising difficulties for businesses. For instance, it took over four months for businessmen who have to visit 7-8 agencies to renew their APEC Business Travel Cards, Mr. Han cited.
On the other hand, too many new regulatory documents have been issued and businesses do not have time to read all, making them vulnerable to violations.
This has caused many enterprises wrongly declare business income tax and forced them to have the court prove them innocent, he added.
Director General of Viet Huong Joint Stock Company Hang Vay Chi worried that the 90 million Vietnamese market would become a consumption market for products of other nations as it has not carefully prepared for deeper integration into the region and world economy in 2015.
He proposed relevant agencies to reconsider lowering long term interest rates to suit businesses' situation and land rent, which is 4-5 fold higher than that in 2010.
Authorized agencies should have clear norms to define small and medium enterprises (SMEs) type, from which to give suitable assistance policies. Current regulations, identifing companies with the annual turnover of less than VND20 billion (US$939,000) as SMEs, are completely impractical.
A fund should be established to sponsor SMEs, and low interest rate should be offered to assist businesses to improve their product's quality.
Chairwoman of Mechanics - Electricity Association La Thi Lan said that mechanics has weakly developed compared to that in the country. Low investment efficiency has not encouraged investors to move in this field.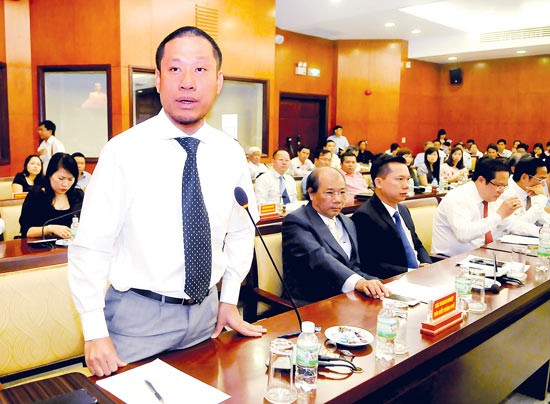 A representative from FPT Software Company states at the meeting (Photo: SGGP)
The price of locally made mechanic products has been pushed up because electricity, water and other service prices as well as wage have surged an average of 10-12 percent. Social insurance premium was found a rise of 22 percent for some years.
HCMC has determined mechanics as one of key industries but has built no industrial zone for businesses in the sector. Support industry development should be implemented as a macro strategy instead of by some businesses.
At the meeting, Chairman Le Hoang Quan has recorded and responded to opinions and proposals of businesses. He instructed authorized agencies to repair or replace unreasonable mechanisms and policies.
Secretary Le Thanh Hai said that HCMC would arrange more fund for the demand stimulation program, the total capital of the program has reached only VND27 trillion (US$1.27 billion) for the last ten years.
In addition, the city will assist businesses to renovate their equipment and factories, reconsider loan interest rates to help enterprises boost investment, increase the localization rate of their products, reform administrative procedures, and develop human resources to meet economic development demand, he added.

HCMC leaders would carry out drastic measures to solve difficulties for businesses because they consider businesses' difficulties and benefits as the city's, and regularly meet with and listen to businesses to solve issues for the city's development, Mr. Hai concluded.