In Ho Chi Minh City 27 companies have closed down or suspended or cut down on production this year, resulting in 7,020 workers losing their jobs.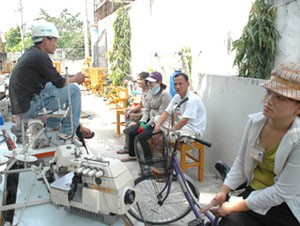 Workers at Quang Sung Vina in HCMC's Go Vap District lost their jobs after the Korean company's director absconded without paying wages. Around 75 percent of laid-off workers in HCMC have got new jobs this year. (Photo: Lao Dong)
In a report the HCMC Labor Union filed December 22 on these companies, it listed 23 shoe and garment enterprises.
There were 12 Korean and three Taiwanese enterprises, with the rest owned belonging to French, US, Hong Kong, and Vietnamese owners.
Around 75 percent of the laid-off workers have got new jobs, the union said, with the rest returning home, becoming pregnant or ill, or having young children.
The union has persuaded companies to participate in a program called "help workers overcome" for disadvantaged workers.
Local authorities have sent a list of 300 pregnant workers who have lost their jobs to the program.
The director of the city Department of Labor, War Invalid and Social Affairs, Le Thanh Tam, said the city should provide training in skills companies require and retrain laid-off workers.
A center should be set up soon to provide up-to-date information and forecast demand for human resources, he said.
Companies should have reasonable salary and social welfare policies so that laborers feel secure and strive to improve their skills, he added.
In 2008 job centers and other authorized organizations in HCMC helped 114,502 people find jobs.