After she had waited for nearly an hour at the Ho Chi Minh City-based Pasteur Institute to get an MMR vaccine for her child, the staff told Nguyen Thi Thu Huong of Tan Binh District there were no stocks of the vaccine left.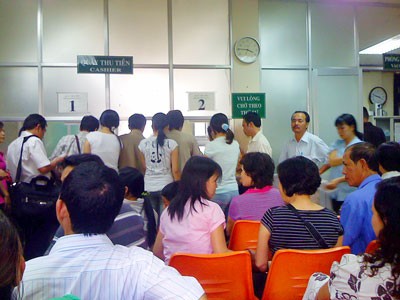 People wait for their turn to get vaccinated at HCMC's Pasteur Institute (Photo: SGGP)
She had taken her six-year-old for the measles-mumps-rubella shot after reading about the measles outbreak in the north.
Hoang Ngoc Anh, also the mother of a young child, wondered if city institutes have too few vaccines in stock.
Dr. Nguyen Ngoc Anh Tuan of the Pasteur Institute told Sai Gon Giai Phong said since it is the peak season for measles and chickenpox, people's awareness of the diseases is higher and they are heading for medical centers to get their children immunized.
Pasteur normally has around 100 doses of vaccine and they were used up last week, he said.
It has placed orders for more with Merck Sharp and Dohme and GlaxoSmithKline but it takes a week to get delivery, he explained.
Dr. Nguyen Thi Ngoc Huong of the Nutritious Center, which also faces a shortage, said the center did not expect to receive such a large number of children. Every day it receives 150 infants, brought mostly for vaccination against measles and chickenpox.
In the northern region, measles is spreading in Ha Noi and some provinces like Ha Nam, Thai Binh, Bac Ninh, and Phu Tho.
Prime Minister Nguyen Tan Dung, in an emergency dispatch February 10, ordered agencies, ministries and people's committees to take immediate steps to fight the disease.
The entire government machinery and media must mobilize to raise public awareness about the disease, people must take proactive steps to protect themselves, their family, and the community, and medical workers must improve surveillance of patients and isolate them, he said.
The Vietnam Drug Administration (VDA) on the same day instructed district medical preventative clinics and vaccine importers to stockpile enough shots to meet requirements.
Centers facing a shortage should immediately inform the VDA, Department of Preventive Health, and the national Expanded Project on Immunization, it said.
Vietnam used three kinds of vaccines imported from GSK (Belgium), Sanofi Pasteur (France), and Greencross (Republic of Korea). 
Related articles:
HCMC clinics get measles vaccines
Measles outbreak hits North Vietnam
Southern region faces chicken pox outbreak