Ho Chi Minh City People's Committee would do its best to assist foreign firms to broaden investment and solve problems in administrative procedures, aiming to ensure clear business environment, said deputy chairman Le Manh Ha on March 4.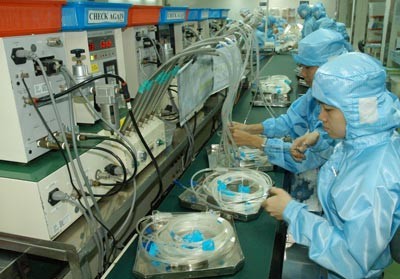 Nikkiso Vietnam Company produces medical equipment in Tan Thuan Export Processing Zone (Photo: SGGP)
He was speaking at a meeting between the city leaders and 200 representatives from foreign firms. The meeting was attended by the city Party Committee Secretary Le Thanh Hai and People's Committee Chairman Le Hoang Quan.
 
At the conference, most FDI businesses' opinions were about complicated and time consuming procedures.
 
In addition, director general of Towa Company Yataka Wantanabe proposed HCMC to assist local businesses in support industry.
 
According to him, many Vietnamese firms want to produce components for the company. However they are unaffordable for new machines while their outdated machines are unable to produce products under his company's standards.
 
Sharing the same view, deputy chairman of the Japan Business Association in Vietnam Yasuzumi Hirotaka said that Vietnamese companies supplied only 14 percent of components that Japanese investors need. It was 21 percent in other nations in the Southeast Asia.
 
As a result, the association hoped that the city would further assist local firms to develop the support industry, he said.
 
Secretary Le Thanh Hai ordered authorized agencies and districts to step up administrative reform, shorten time to do tax, customs and other procedures for foreign investors, and take the imitative in proposing the city and central government to issue the most advantageous policies for businesses.
 
Relevant agencies should focus on developing high quality human resources to meet requirements of foreign investors especially those from hi-tech field.
 
HCMC will also further develop traffic infrastructure to link it with neighboring provinces; cities and the city center with new urban areas, he added.
 
Last year, HCMC attracted 457 Foreign Direct Investment (FDI) projects with a total registered capital of US$2.88 billion.
 
Besides, 138 other projects added an extra of US$383.41 million capital, taking the total registered and additional capital to US$3.26 billion, up nearly 57 percent over 2013.
Highest registered capital was recorded in manufacturing and processing industry with US$1.65 billion, accounting for 57.2 percent of the total FDI capital.
 
Real estate was ranked second with US$635 million, accounting for 22.07 percent. At the third position were retail and wholesale, automobile and motorbike repair services with US$334 million, occupying nearly 12 percent.
 
HCMC now continues calling for investment in nine service fields and four high-tech and high-added value industrial sectors.

Related article:
HCMC leaders undertake to solve difficulties for businesses