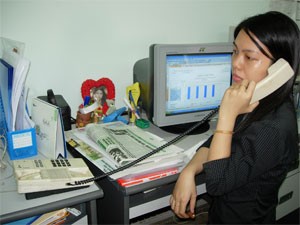 From now on "Call 171" service can be applied to fixed-phone subscribers (Photo: Thuy Hang)  

The Ho Chi Minh City Post Office on Sunday officially began its International 171 service for the city's fixed-phone and Cityphone subscribers.

Previously calls made via 171 were limited to other parts of Viet Nam unless the subscriber had registered for an international service.  
Now, a call to anywhere in the world can be made by dialing 17100 followed by the country code, area code and telephone number. 
171 service's charges are usually 10% to 22% lower than those of International Direct Dial service.