Chairman of the Republic of Korea's National Assembly Chung Sye-kyun yesterday received a delegation of Ho Chi Minh City led by the city's Party Chief Dinh La Thang during their visit to the country from September 7-14.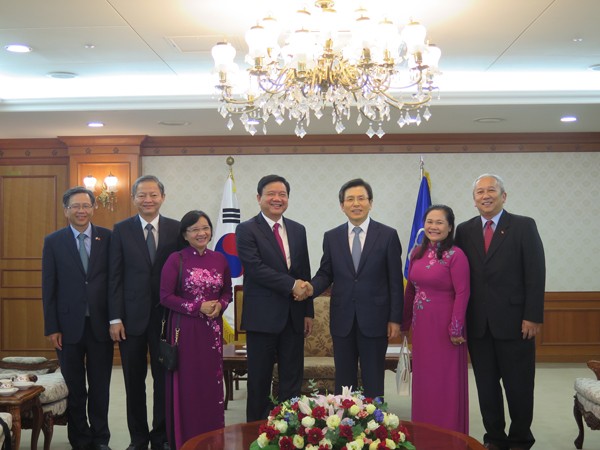 Korean Prime Minister Hwang Kyo-Ahn (R) shakes hands with HCMC Party Chief Dinh La Thang at a meeting during the city's week long visit to the country on September 8 (Photo: SGGP)
At the National Assembly headquarters, Mr. Chung welcomed Secretary Dinh La Thang to his country on the occasion that Vietnam and South Korea are heading towards the 25th anniversary of the establishment of diplomatic relations.
Highly approving Ho Chi Minh City on intensifying cooperation with Korean localities, he affirmed that Korean firms will be encouraged to step up investment in Vietnam and HCMC in the upcoming time.
Chairman Chung said that Vietnam and South Korea have many similarities especially in culture, so the relationship between the two nations has been more and more attached. Of these, the relationship between HCMC and Korean localities is a significant highlight.
He hoped that Vietnam and HCMC in particular will pay attention to stronger investment and development in tourism and cultural exchange because the number of Korean visitors to Vietnam and HCMC has been increasing.
The city's leaders should assist agencies to solve procedures and difficulties for Korean businesses to invest in the city, he hoped.
He believed that the strategic partnership between Vietnam and South Korea and HCMC and Korean localities will develop ceaselessly to be worthy of the belief of their senior leaders and citizens.
At the meeting, Secretary Dinh La Thang hoped that the Rok NA chairman will pay heed to upholding the two sides' high level exchanges.
Moreover, the chairman will increase professional training cooperation in legislation, parliament and supervision of central and local government as well as authorized agencies which include the HCMC People's Council and Korean people's councils at all levels, Mr. Thang hoped.
He expected that South Korea will continue supplying Vietnam official development fund (ODA) funds in fields that the two sides pay attention to such as infrastructure, human resource investment and climate change adaption.
The two sides will boost implementation of memorandum of understandings in labor cooperation. Specifically, South Korea will boost the receiving of Vietnamese workers. From that, the country will help train high quality manpower for Korean investors in Vietnam, Mr. Thang expressed his desire.
According to Secretary Dinh La Thang, the strategic partnership Vietnam-South Korea has developed quickly and effectively in many fields. Exchanges among high level leaders, ministries and localities of the two countries have been maintained and their political confidence has been fortified.
South Korea has kept Vietnam's position of its important partner in many fields especially economics and to be the largest investor and the second largest ODA sponsor of Vietnam.
At present, the two countries are preparing for large and significant activities to mark the 25th anniversary of the diplomatic relationship in 2017.
The community of about 100,000 Koreans and 2,000 Korean firms in HCMC is one of factors contributing to the city's development. They play the role as a bridge to strengthen the two countries' cooperation, Mr. Thang stated.  South Korea is one of HCMC's leading partners in trade, investment and tourism now.
Korean firms to boost investment in HCMC
On the same day afternoon, Korean Prime Minister Kwang Kyo-Ahn received the HCMC delegation.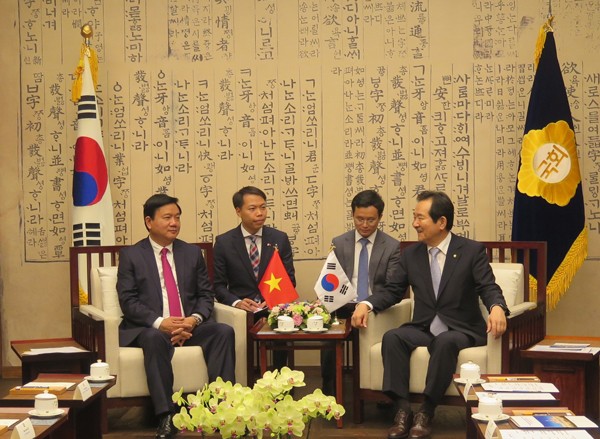 Chairman of the RoK National Assembly Chung Sye-Kyun (R) receives HCMC Party Chief Dinh La Thang (Photo: SGGP)
Estimating HCMC to be a dynamic and creative development model of the region, the PM hoped the visit of Secretary Dinh La Thang will contribute in fostering the two countries' relationship.
Mr. Hwang said that he would encourage Korean firms and localities to invest in Vietnam and HCMC more drastically. In addition he would instruct relevant agencies to consider promoting necessary procedures so that Vietnamese and Korean airlines can open more flight routes and increase the frequency of flights between the two countries to boost trade.
Authorized organs would be required to provide the most advantageous conditions for Vietnamese workers to work and reside in South Korea, the PM affirmed.
At the reception on the previous day, Seoul's first deputy mayor Ryu Gyeong-Gi asserted that the capital city and HCMC would establish friendly cooperation relations by 2017.
Mr. Thang revealed that HCMC is now focusing on developing four key industries and seven breakthrough programs including a scheme on traffic jam reduction.
The city has called on investors including Korean companies to invest in major infrastructure projects, including metro and monorail routes, programs on flooding and environment pollution reduction together with urban planning and development.