Though Ho Chi Minh City is expected to achieve an economic growth rate of 12.6% this year, the highest in the past decade, life quality for its inhabitants has not improved correspondingly due to environment and traffic problems, said local lawmakers.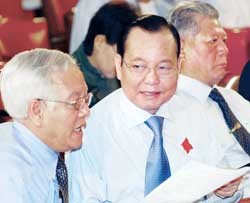 HCMC's commuist party chief Le Thanh Hai (R) and city mayor Le Hoang Quan at the session
During the 12th session of the seventh tenure of the city People's Council [local legislature] which opened yesterday, councilor Tran Van Khoa wondered what would happen to the environment if the city economic growth rate topped 14 percent.
"We seem to be paying too high a price for fast development", he worried.
Councilor Tran Thanh Long complained that residents in district 12, Hoc Mon and Thu Duc have for many years been affected by flood and waterlogging while a project to build an embankment on the Saigon River has been on paper for years but yet to be implemented.
Long, also chairman of the municipal Fatherland Front lamented over pollution issues.
Up to 8 industrial zones out of a total 14 in the city lack waste treatment systems. So do 35 hospitals and medical centers out of 105 including the famous Cho Ray Hospital and the Pasteur Institute, Long added.
According to councilor Nguyen Dang Nghia, riverhead water in HCMC is three times more polluted than the previous year.
Another councilor, Le Nhu Ai said that 10 percent of the city's 1,402 production facilities are deemed polluters and have been ordered to move away from downtown areas many times but they have yet to do so.
As for traffic jams, lawmaker Nguyen Huu Tho blamed current light punishments on rising traffic accidents and jams. "Even when the city devoted 20 percent of land to traffic flows, it would not help if we continue to be light on traffic violators". Now the figure is only 1.7 percent while the world average is 16-20 percent.
Deputy Nguyen Thanh Chinh called for further staggering school hours to thin out traffic.
Local lawmakers also slammed poor infrastructure, overlapping legal documents, and red tape as hindering the city's socio-economic development.
According to a report by the HCMC People's Committee [local government], the city's Gross Domestic Product (GDP) this year is estimated at VND228.6 trillion (US$14.3 billion), a year-on-year rise of 12.6% and the highest in the past 10 years, contributing 20% to the national GDP.
 
During the four-day session being broadcast live on HCMC Television's HTV9 channel, the municipal People's Council is expected to hear reports on administrative reforms, state budgets for 2008, land management, and environment protection.