Over 20,000 Ho Chi Minh City citizens and students marched to celebrate Viet Nam's entry into the World Trade Organization yesterday morning.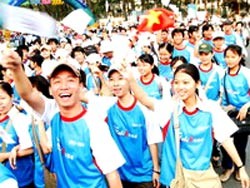 Ho Chi Minh City citizens and students march yesterday to celebrate Viet Nam' WTO membership
The city people are very proud of the country's WTO membership because it is an opportunity for the country's economic development.

The marchers also participated in a campaign to collect over VND140 million to raise the Fund for the Poor which is managed by the HCMC Fatherland Front, among which VND32 million came from the marchers and VND100 million from the auction of MobiFone SIM cards.

Besides, MobiFone company has offered VND50 million to the fund for the city's young athletic talents.