A delegation from Ho Chi Minh City, led by HCMC Party Chief Le Thanh Hai, met with the leader of the southern-Lao province of Champasac yesterday, ending their working visit to Laos.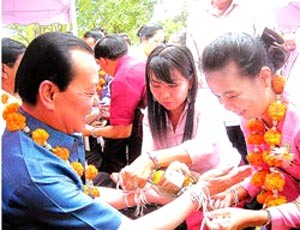 Mr. Le Thanh Hai takes part in a Lao traditional festival during his visit to Laos
The two sides agreed that the relationship between Viet Nam and Laos, particularly between HCMC and Champasac Province, is steadily improving in many areas, particularly in economic terms.

HCM City's investment in Champasac has achieved good results and created jobs for citizens of both nations, however, the results obtained do not reflect the full potential and strength of the two regions accurately.

Mr. Hai said the two localities will focus on the development of profitable and effective cooperation. In the near future, HCMC will implement all of its commitments as outlined in the memorandum of understanding signed by authorities from HCMC and Champasac in 2001.

HCMC is responsible to introduce business interests from provinces and cities within Viet Nam with their counterparts in Champasac Province to develop key areas of business.

Mr. Hai also said that in order for cooperative projects between the two regions to be carried out successfully, the HCMC Planning and Investment Department will monitor their implementation under the management of a HCMC Vice Chairman.