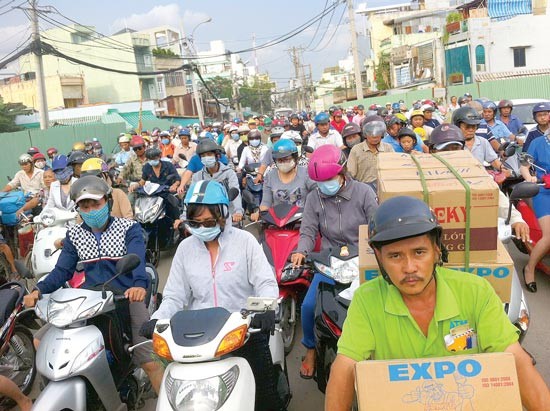 One of suggestions to reduce traffic jam is to restrict personal vehicle (Photo: SGGP)
Public concerns in Ho Chi Minh City have been raised following the news of city authority will restrict the number of personal vehicles.

Duong Hong Thanh, former deputy director of the municipal Department of Transport, said Sai Gon Giai Phong newspaper that it is just a proposal to tackle traffic congestion and develop public transportation by 2015 that the Department had submitted to the People's Committee and the Ministry of Transport for consideration.
Before, the Ministry had requested major provinces and cities to work out a measure against traffic gridlock. Public transport in the city is not favored by residents with only 413 million passengers in 2012 but it increased 411 million passengers in 2013.
The figure proves that residents in HCMC prefer personal vehicles than public transport. It is a real headache for city authority in fighting against traffic jam.

Accordingly the City Public Transport Institute and the Department of Transport have worked out two measures to reduce traffic congestion including increase registration fee of personal vehicles, re-structuring the city space with more centers, parking lots and bus waiting stations and allowing advertising on buses.