The Department of Transport has approved a plan to repair and upgrade 15 streets in Ho Chi Minh City in 2012, which might lead to traffic jams along some areas of the city.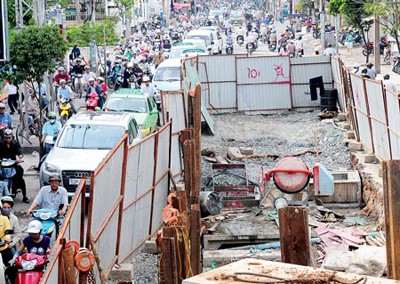 Traffic jams may occur along 15 streets that will be under repairs in HCMC in 2012 (Photo: SGGP)
The 15 streets listed for upgrade include Nguyen Du, Cach Mang Thang Tam, Dinh Tien Hoang, Hai Trieu and Dang Thi Nhu Streets in District 1; Ly Chinh Thang Street in District 3; Chau Van Liem Street in District 5; Binh Tien and Kinh Duong Vuong Streets in District 6; Bac Hai Street in District 10 and Ho Hoc Lam Street in Binh Tan District.
Once the repair work commences there are expected to be traffic jams along the above streets. At present, HCMC already has 40 ongoing drainage works and other projects along many roads.
The Department intends to lay out better plans so as to space out and limit traffic congestion while the construction is underway.