Secretary of the Ho Chi Minh City Party Committee Dinh La Thang instructed Cu Chi district authorities of all levels to cut down meetings, focus on thinking and assisting local dairy cow breeders who have faced difficulties in consuming their products on Thursday.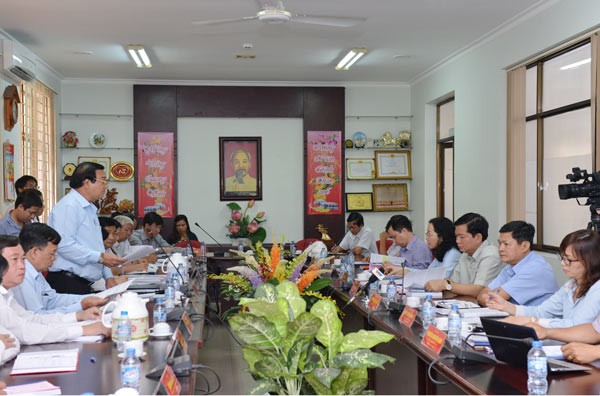 Secretary of Cu Chi District Party Committee reports local situation to HCMC Party Chief Dinh La Thang at a meeting on February 18 (Photo: SGGP)
He made the statement while inspecting implementation of the city Party Committee' 10th congress resolution in the district, where leaders reported to him the farmers' difficulties.
Milk produced from nearly 40,000 dairy cows in the district has been unsalable, they reported.
Mr. Thang asked local authorities to carefully learn about reasons of the issue and directly meet with chairmen and director generals of groups and corporations to solve it.
"It is unacceptable that Cu Chi farmers have no places to sell their products in such a large market as HCMC," he said.
Talking to Sai Gon Giai Phong reporter on the same day, director general of Vinamilk Mai Kieu Lien said that the company had called an internal meeting right after receiving information on the difficulties of Cu Chi famers.
Ms. Lien said that Vinamilk has asked the People's Committee in Cu Chi district to do statistics on the number of dairy cow households who can not sell their products, specify whether they had signed consumption contracts with any businesses before and if they did why these businesses stopped purchase.
Vinamilk will send its personnel to do surveys in Cu Chi and have specific measures to assist each household, she added.
The company will send a detailed report to Mr. Thang and chairman of the city's People's Committee on their assistances to the dairy cow breeders as soon as possible, she affirmed.
Chairman of the district People's Committee Nguyen Huu Hoai Phu said that the district was expected to send Vinamilk a list of these households by early next week.
Secretary Dinh La Thang urged Cu Chi district to reduce resolution issue and meetings and take immediate actions to help not only dairy cow breeders but also orchid and fruit farmers to solve consumption problems, he stressed.
Over 340 dairy cow farming households have been in difficulties in the district so far. Local authorities have established working groups to give them technical assistances to improve milk quality to meet businesses' requirements.
Mr. Thang appreciated the district's efforts in developing it into a new rural district, warned them of being satisfied with these results and prompted them to continue attempts.
In addition, he urged leaders of the district to pay attention to social welfare policies to improve citizens' lives, especially clean water supply.
It was unacceptable that three communes in the district would have clean water as late as 2019, he said.
He suggested Cu Chi to learn experiences from the northern province of Thai Binh where businesses have invested in the clean water system if necessary.
The district should have a hotline for residents to directly contact with its Party Secretary and give their opinions to develop the district, he said.

Related articles:
HCMC sets up hotline for public
HCMC's Party Chief visits Vietnamese Heroic Mothers in Cu Chi