Although prices of several commodities have dropped suddenly after Tet Lunar New Year, purchasing power is still relatively low in markets and retail stores in Ho Chi Minh City.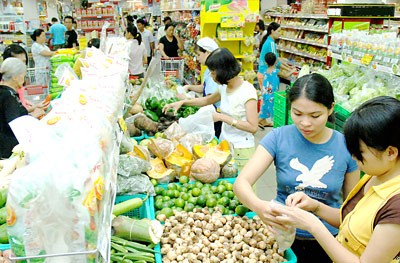 Consumers at a supermarket in HCMC (Photo: SGGP)
One week after Tet, food prices have dropped by half as compared to before Tet Lunar New Year festival season.
This is being attributed to supermarkets reopening too soon, on the very second day of the lunar year, offering competitive prices and attracting a large number of consumers. This has forced traders in markets to reduce prices on most commodities.
Besides also, people don't usually do a lot of shopping in the beginning of a lunar year.
Similarly, consumer demand is at a record low in even building material, clothes and accessories like shoes.
Dinh Thi Kim Cuc, owner of the Phuoc Thinh Nhom Company that trades in building material, said that she usually opens all her shops on the fourth day of lunar year and earns about VND50-70 million by mid month. However, this year the turnover is less than VND10 million for the same period.
The low purchasing power of consumers has resulted in some clothes and shoe shops to temporarily shut down.