Ho Chi Minh City will suffer flood in wide areas in the end of September as a warning of the city's Flood and Storm Prevention Board on September 21.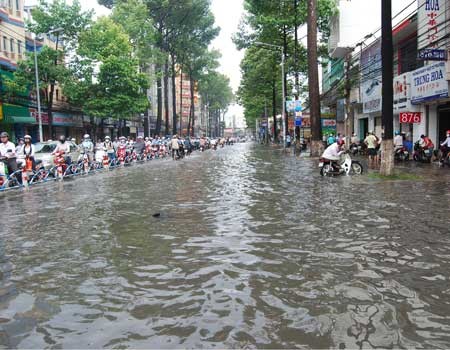 Tran Hung Dao Street in district 1 submerged in water after  torrential downpours . Weather focasters said the city could face flood in wide areas by the end of September
The board sent its urgent dispatch to district governments and people's committees to forecast a possible huge flood as well as preventive measures. The reliable warning is based on the report of meteorologists.
Water level of the Sai Gon River could exceed the second-stage warning level by 1.42m by the end of September, said meteorologists of the Station for Weather Forecast of the South.
Moreover, rainfall could be from 60 – 90 mm in the city. Tide and torrential downpours in some next days would cause flood in wide areas.
The board asked district governments and relevant agencies to check flood-prone areas, shore up dykes and embankments as well as strictly implement measures against tide at alarming level.