Ho Chi Minh City Communist Party Committee has opened its third conference today to review the city's achievements in the first quarter of 2006 and approve plans for social-economic development next quarter and in 2006-2010.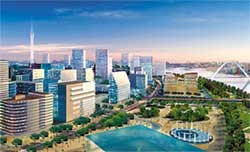 Thu Thiem new urban area, one of Ho Chi Minh City's five major programs in the 2006-2010 period.
Accordingly, the city's action plans for the Five Major Programs in 2006-2010 will be discussed and approved at the meeting.
These five major programs includes the city's administration reform, including fighting bureaucracy and corruption; economic structure transfer; housing development; Saigon High-Tech Park investment; and the Thu Thiem new urban area construction.
Particularly, in its housing program, the city is planning to build 30,000 houses to serve the resettlement of residents in investment sites. Besides, 15,000 households who have resided along the city's canals and riversides will also be relocated.
Renovation activities of 40 old and dilapidated apartment buildings throughout the city will also be carried out in the program. That is not to mention the target of building 20,000 boarding-rooms for provincial workers.
As reported by the City People's Committee, in the first three months of 2006, the city's economy continued to growth with a 9.5% GDP increase, though a bit (0.5%) lower than a year earlier.
Major reasons for this humble increase include the EU's anti-dumping tariffs on Vietnam's leather shoes exports, a decline in the consumption of locally assembled cars, and the difficulties of foreign invested companies in applying the new salary system and working policies.
To accomplish its tasks in the second quarter of 2006, Ho Chi Minh City People's Committee expects to initiate many synchronic measures, with strong emphasis on the development of mechanics, informatics-electronics, chemistry, and food processing industries.
Also, Ho Chi Minh city will launch 11 tourism projects, continue to carry out its project for expanding the stock market; push for more efforts in completing its 1/2000 city plan and implement its adjusted land-price list for 2006.
The meeting is expected to take place on April 10 and 11.